Dear Friend,
It's October. Maple trees are bright red, the days are getting shorter and the temperature is dropping. Every year at this time, Thanksgiving Day reminds us of the importance of giving thanks:
And every year on October 18, we are grateful for the courage of the Famous Five fighting for women to be declared Persons: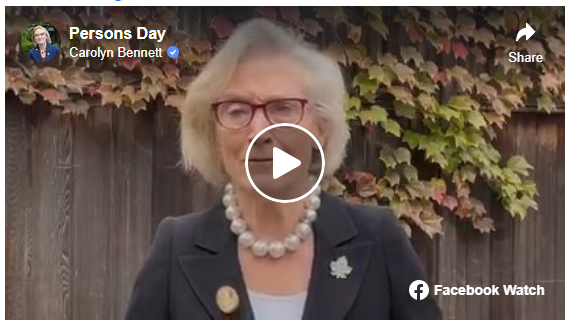 This Persons Day, as we continue to fight for equality in Canada, we were focused on the courageous women in Iran risking their lives fighting against the patriarchy. This year, we are so aware of the brave women in the United States running for office to fight for reproductive rights.
This year, our hearts are breaking for the Ukrainian people fighting for their lives and their country.
We live in the best country in the world, but Canadians are struggling: struggling financially, struggling with their mental health, young people suffering from climate anxiety, small businesses struggling to find staff.
This session of Parliament we are working to pass the legislation that will provide dental care to children of low income families, and help for renters and persons with disabilities. 
In this Small Business Week, I encourage all of us to continue to support strongly our small businesses and restaurants in Toronto-St.Paul's. As you know, I grew up shopping local. My parents who owned Eunice Denby Flowers on Eglinton were pretty clear: we could find anything we needed in the stores and restaurants nearby. Covid helped us all realize what would happen if the businesses that create the character and vibrancy of our neighbourhoods couldn't count on our support. Throughout Covid, I discovered many local favourites that were new to me!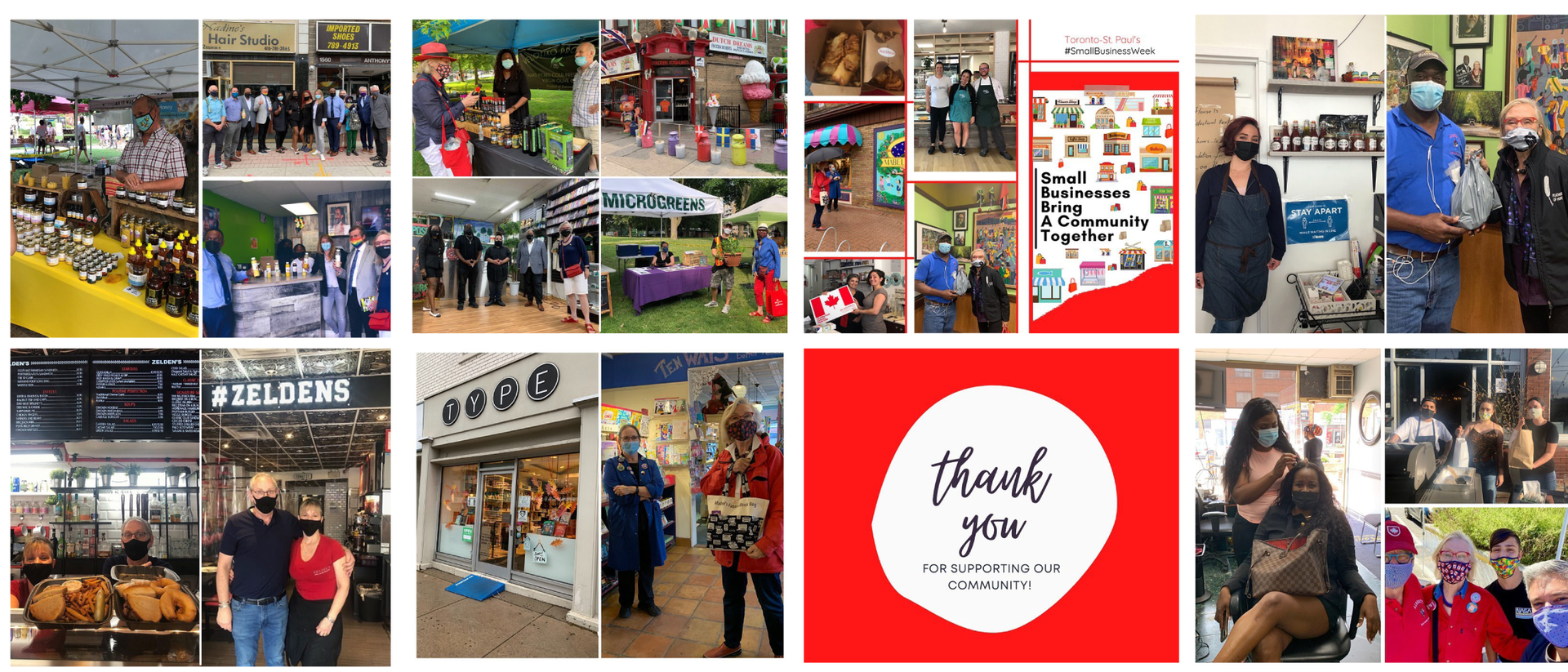 In honour of the late Queen's Jubilee, we are asking you to nominate an extraordinary neighbour who has played a part in making our community stronger. Jane Jacobs used to call on us to show our 'neighbourliness'. Send us an email nominating the person who you think is the best example of 'neighbourliness.' We believe that honouring these 'outstanding neighbours' will inspire others!
As we carve our pumpkins and get ready for the little princesses and princes, astronauts and firefighters who come trick or treating to knock on our doors, let's remind ourselves it's only 60 days till the days get longer again!
Calling all Toronto-St. Paul's Youth




Are you between the ages of 14-25, live in Toronto-St. Paul's and feel passionate about politics and social issues?  Do you want to get involved and meet like minded individuals?  

 

Join the Toronto-St. Paul's CYC to share your unique perspective and to participate in policy discussions, projects and initiatives with the Hon. Carolyn Bennett. 

 

Application deadline is November 30th, 2022.
Outstanding Neighbour Awards 2022




Do you know an amazing neighbour or 'unsung hero' that should be
recognized for their service to our Toronto-St. Paul's community? Nominate them today!

 

Winners will be celebrated at a special ceremony and awarded a Queen Elizabeth II's Platinum Jubilee Pin!

 

Application deadline is November 30th, 2022.
Submit a piece of original artwork to be included in our 2023 community calendar. Paintings, drawings, poems, stories, songs, sculptures and more are all welcomed from participants of all ages!

 

Take a photo or scan your artwork and send it to [email protected] with the subject line Calendar 2022 submission entry.

 

Deadline to submit is October 24, 2022.
Disability Inclusion Action Plan




Canada's first-ever Disability Inclusion Action Plan has been released. The Action Plan will challenge the Government of Canada to do better, to become fully inclusive of persons with disabilities, and to consider the needs of the disability community in everything we do. The Action Plan includes four key pillars identified by the disability community as priorities including financial security, employment, accessible and inclusive communities and a modern approach to disability. 
Riding Redistribution -
Feedback Deadline Extension


After each census, an independent Commission works to establish and propose new electoral boundaries. This year, significant changes are being proposed to the riding of Toronto—St. Paul's, including a name change. 

 

The deadline to submit comments and feedback to the Commission has been extended to October 29, 2022
Help for Hurricane Fiona Victims




For everyone affected by Hurricane Fiona, our thoughts are with you and your communities.  

 

As Canadians, we will be there for each other, and as a government, we will match any donations Canadians and corporations make to the Canadian Red Cross until October 23.
COVID-19 Free vaccines are available to everyone in Canada. To learn more about Canada's response to COVID19 visit:
canada.ca/covid-19

WELLNESS TOGETHER Connects Canadians to peer support workers, social workers, psychologists and other professionals for confidential chat sessions or phone calls.
wellnesstogether.ca

KIDS HELP PHONE Connects youth with professional counselling, information and referrals across Canada without any face-to-face contact.
kidshelpphone.ca
The Toronto -St. Paul's  constituency office is open Monday-Friday, 8:30am-4:30pm.  Call us at 416-952-3990, or email [email protected] for assistance in any federal matter.