Veterans' Week
Every year during the lead up to Remembrance Day, on November 11, we honour those who have served Canada in times of war, military conflict and peace. November 5-11 is Veterans' Week.
This year the theme of Veterans' Week is "Service, Courage and Sacrifice – At home, around the world and across generations."
Canada's diverse population of Veterans has served on many kinds of missions, both at home and abroad. To learn more about seven of those missions, some marking key anniversaries in 2021, people and stories of those who have served Canada, events taking place in November, personal recollections of Canadian heroes, mental health and wellness support and events as well as services and benefits, click here. 
The 100th Anniversary of the Poppy
In the lead-up to Remembrance Day on November 11, don't forget to wear a poppy to show your support! This year is also the 100th anniversary of the poppy as the symbol showing Canadians' support for our Veterans, which was first adopted following the First World War to raise money for Veterans and honour those who lost their lives in service to Canada.
For more on the Poppy Campaign, click here.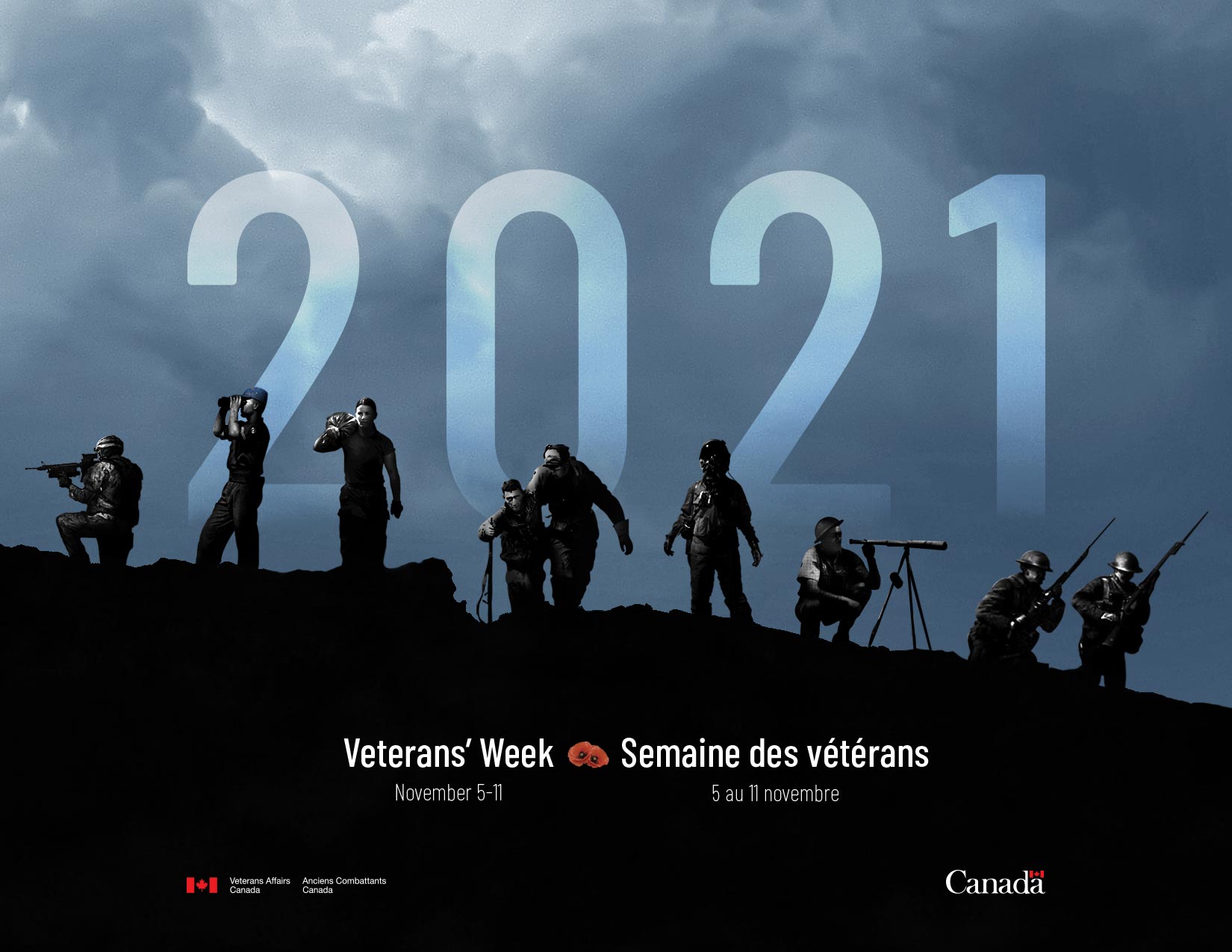 Climate Change Conference (COP26) in Glasgow
Climate change is the greatest long-term threat of our time, but it is also the greatest opportunity for our economy and workers. By working with global partners at COP26 and elsewhere, we can tackle the climate crisis and build a better and cleaner future for everyone.
While attending United Nations Climate Change Conference of the Parties (COP26) in Glasgow, UK, this month, Prime Minister Trudeau championed putting a price on pollution towards reaching global climate goals and called on all countries to take bold action to expand the use of pollution pricing globally.
During COP26, Canada announced investments of up to $57.5 million to help the world's poorest and most vulnerable countries adapt to the climate crisis and increase their resilience.
The government also reaffirmed support for the Global Methane Pledge, and Canada's objective of reducing methane emissions in the oil and gas sector by at least 75% below 2012 levels by 2030 - the first country to announce that target.
Canada also endorsed the UK‑led Global Forest Finance Pledge, which aims to identify US$12 billion in public climate finance from 2021 to 2025, to support further ambition from forested developing countries.
Together, we will create new jobs and economic growth, tackle the climate crisis, and secure a better and cleaner future for all. For further information on Canada's plan click here.
Canada selected as headquarters for the new International Sustainability Standards Board
When it comes to sustainability in the financial sector, now more than ever, the world needs consistent, comparable global reporting standards. That's why our government is thrilled that Canada will host one of the central offices for the International Sustainability Standards Board (ISSB) and we are grateful to be recognized for our country's diverse and strong talent, financial sector expertise, and climate leadership.
The ISSB and its new Montreal offices will be the global sustainability disclosure standard setter and will provide people around the world with access to reliable information, and strengthen accountability for companies and investors in order to ensure an efficient global transition to a net-zero economy.
The new ISSB will create good jobs here in Canada and accelerate growth in the green economy, at home and around the world. This selection is a win for Canada and is a reflection of our commitment to climate action across the economy. For more information, click here.
Helping middle-class families and kids recover from the pandemic
This week, families with children already receiving the Canada Child Benefit (CCB) will receive their final installment of the young child supplement payment. These additional payments have provided families with up to $1,200 per child under 6, supporting more than two million children and helping about 1.6 million families put food on the table, find alternatives to child care, and pay for at-home learning activities.
For further information, click here.
---
Resources
As the situation is changing daily, please check the following websites for daily updates in Toronto and across Canada:
---
In Our Community
Local businesses continue to need our support! Find out what stores are open, or what restaurants are offering takeout and delivery. The following BIAs have put together lists of businesses that are still open, albeit doing things a bit differently. Let's do what we can to support our local businesses:
---
Wellness Together
COVID-19 has changed the daily lives of people around the world. During these difficult times, it is critical that Canadians be able to obtain credible information and access services to support their mental health and wellbeing. That's why the government launched a portal dedicated to mental wellness: Wellness Together Canada.
This portal will connect Canadians to peer support workers, social workers, psychologists and other professionals for confidential chat sessions or phone calls, and will make it easier to find credible information and help address mental health and substance use issues.