October 14, 2021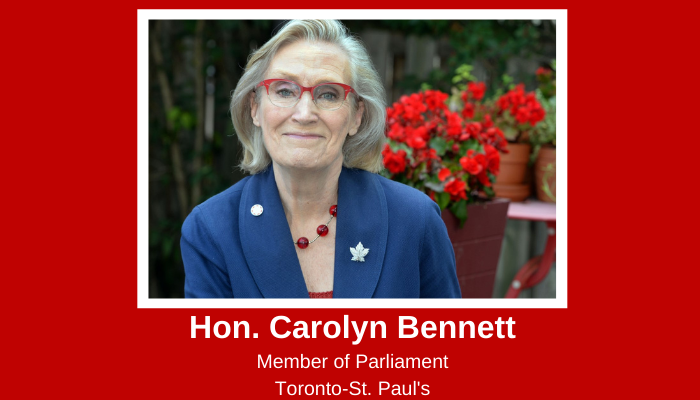 Thank you all for your participation in our recent democratic event.
Thank you to Stephanie and Sidney, Phil and Peter who put their names on the ballot because they want to make a difference.
I thank all their supporters who worked so hard and I want them to know that their voices will continue to be heard as we fight Covid19 and we 'Build Back Better' – economically, socially and environmentally.
I thank everyone who took a sign and proudly displayed their support for the party of their choice, and I hope we will all be able to display our political views and have that respected, without reprisal or vandalism.
I thank everyone who voted. The turnout at the Returning Office with Special Ballots, Advance Polls and Mail-In Ballots was unprecedented. I thank all those who voted on election day and persevered through some of the longer waits knowing our democracy depends on citizens who are determined to exercise their right to vote. In this election, I heard from many people who had come to Canada from countries where they had been denied the right to vote in a fair election, and who said they always vote. They loved the saying 'If you don't vote, you don't get to complain!'
We heard clearly about the priorities in Toronto St. Paul's. We heard many constituents' concerns about issues of affordability. We heard from many who worry they will never be able to own a home in our community. We heard from seniors on fixed incomes who fear increasing rents will drive their wisdom and lived experience out of our neighborhoods, or that they won't be able to watch their grandchildren grow up because their children have moved away so they can afford a backyard instead of a balcony.
We heard about the need to deal with the climate emergency. People understood that our government's policies had received an excellent evaluation from the experts, but they want us to do even more globally to deal with the existential threat of climate change.
As we continue the fight against Covid-19, and work to 'Build Back Better', we will need to draw on the expertise and lived experience of all the engaged citizens of Toronto-St. Paul's to present the solutions that will move our truly wonderful country further forward.
I am proud of our commitment in Toronto-St. Paul's to 'Democracy between Elections.' I look forward to seeing you at the Persons Day event on October 17 and the Summit with all our elected representatives for Toronto-St. Paul's on November 14. Please join us - and invite your friends to join this electronic way of staying in touch! 
Sincerely, 
Carolyn Bennett
---
Reminder!
The Toronto-St. Paul's Calendar for 2022
A friendly reminder to the Toronto-St. Paul's community - the calendar deadline is coming up. 
We are seeking hobby and professional artists of all ages to submit a piece of original artwork to be included in our 2022 community calendar which is distributed throughout the riding of Toronto-St. Paul's.Take a photo or scan your artwork with the subject line 'Calendar Art' and send it to [email protected]
The submission deadline has been extended to Friday, October 22, 2021. 
---
Virtual Event


Sunday, October 17th @ 3:00 PM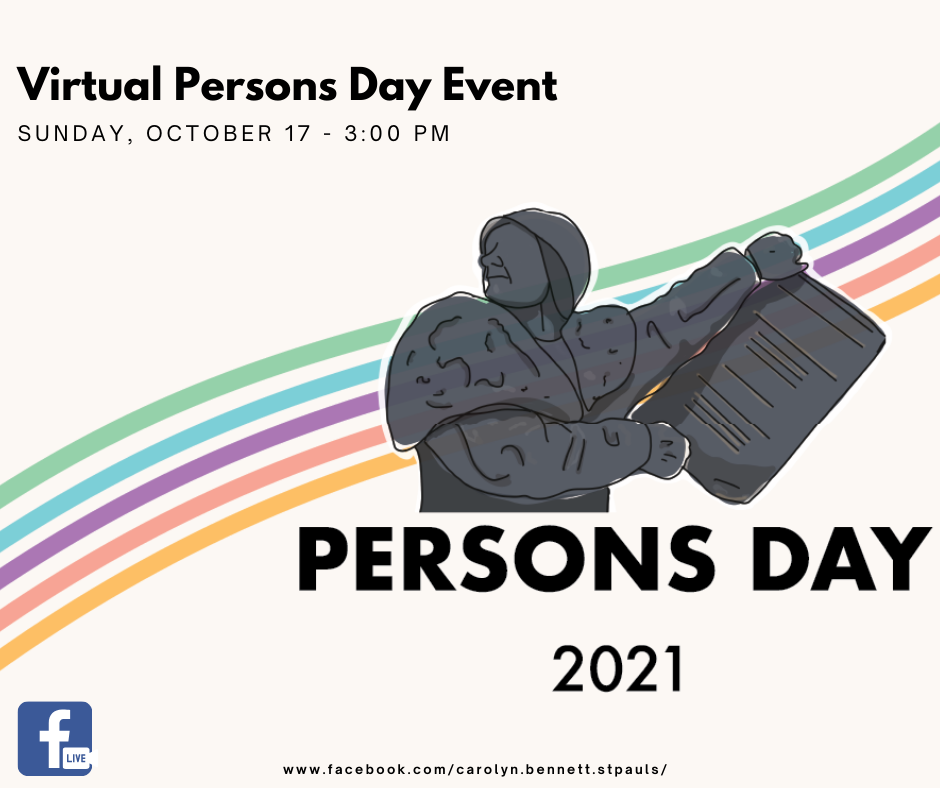 Join us as we come together to celebrate Persons Day on Sunday, October 17th at 3:00 PM. 
October 18 marks the official day of the historic decision to include women in the legal definition of "persons". On October 18, 1929, the decision was announced, after the Famous Five persevered and took their case to the Judicial Committee of the Privy Council of Great Britain in London, which was then Canada's highest court of appeal. 
Host: The Hon. Carolyn Bennett (She/Her)
Invited Panelists:
Justice Betty (She/Her), Co-Founder Révolutionnaire
Brea Hutchinson (She/Her), Director of Operations at Women's Legal Education and Action Fund (LEAF)
Senator Yvonne Boyer (She/Her), Independent Senators Group, former Canadian Human Rights Commissioner
---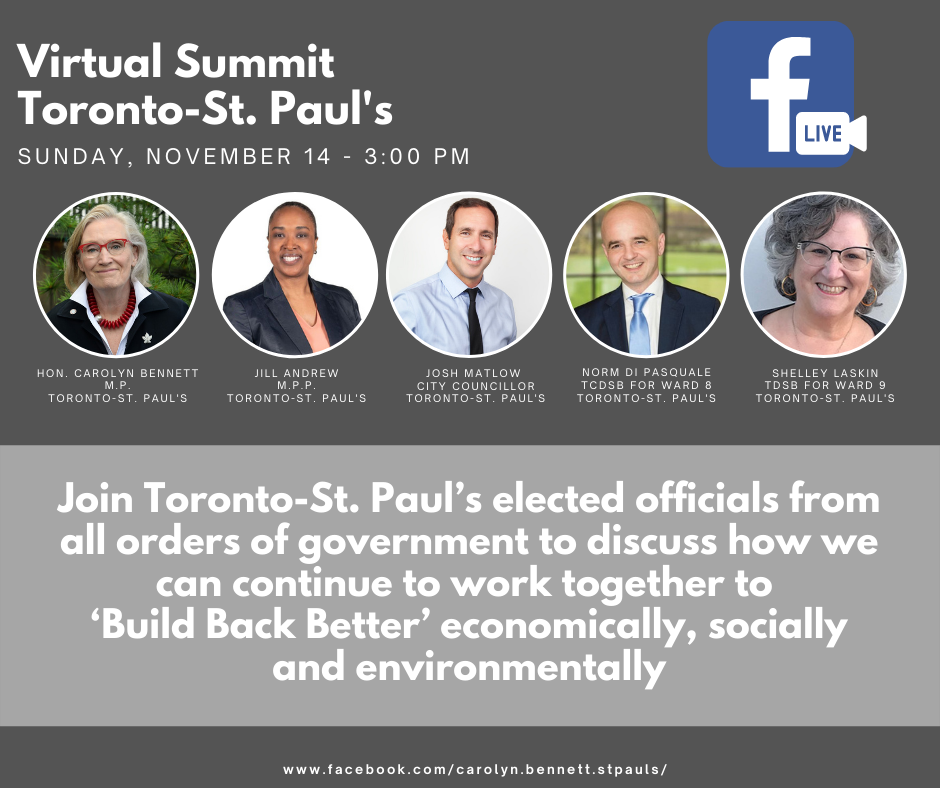 Sunday, November 14th @ 3:00 PM
We are still all in this together! Join the Toronto-St. Paul's elected officials from all orders of government to discuss how we can continue to work together to 'Build Back Better'. 
If you have questions you'd like to ask, please send them via email to [email protected] prior to the virtual event. To watch, simply visit Carolyn's Facebook page to watch.
Panelists:
• Hon. Carolyn Bennett, MP for Toronto-St. Paul's (She/Her)
• Jill Andrew, MPP for Toronto-St. Paul's (She/Her)
• Josh Matlow, City Councillor for Toronto-St. Paul's (He/Him)
• Shelley Laskin, TDSB Trustee for Ward 8 (She/Her)
• Norm Di Pasquale, TCDSB Trustee Ward 9 (He/Him)
---
Mandatory Vaccination for public servants and for federally regulated transportation sectors
From the beginning of the pandemic, the health and safety of all Canadians have been at the heart of the government's response to COVID-19.
On October 6th, the Prime Minister and Deputy Prime Minister announced the details of the plans to require COVID-19 vaccination for all federal public servants and those working in the federally regulated transportation sectors, as well as all travellers who wish to travel on planes and trains. Under the new policy, federal public servants in the Core Public Administration, including members of the Royal Canadian Mounted Police, will be required to confirm their vaccination status by October 29, 2021. Those who are unwilling to disclose their vaccination status or to be fully vaccinated will be placed on administrative leave without pay as early as November 15, 2021.
Employers in the federally regulated air, rail, and marine transportation sectors will have until October 30, 2021, to establish vaccination policies that ensure employees are vaccinated.
Effective October 30, travellers departing from Canadian airports, and travellers on VIA Rail and Rocky Mountaineer trains, will also be required to be fully vaccinated in order to travel. 
For travellers who are not yet fully vaccinated, there will be a short transition period where they will be able to travel if they can show a negative COVID-19 molecular test within 72 hours of travel, but this transition will end on November 30.
The government is working with industry and key partners to put a strict vaccine requirement for cruise ships in place before the resumption of the 2022 cruise season. We strongly advise any Canadians planning to travel by plane or train this holiday season, to immediately get vaccinated as soon as possible or they will be unable to travel.
For more information, please click here. 
For the most updated information on travel restrictions, travel requirements and more - please visit the Government of Canada website - COVID-19: Travel, testing, quarantine and boarders.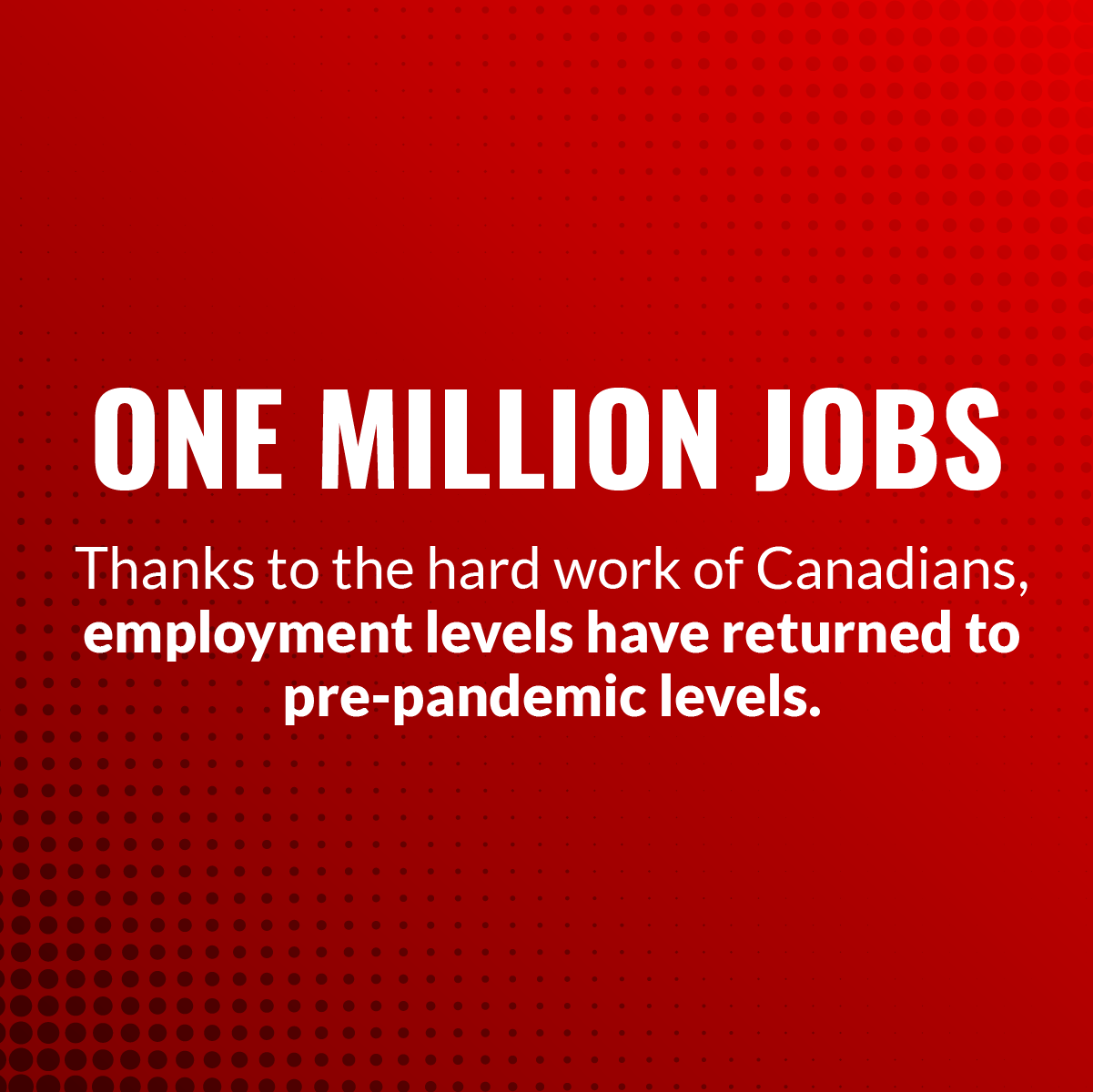 September 2021 Labour Force Survey & Continuing to Support Canadians
Earlier this month, the September 2021 Labour Force Survey was released, showing Canada's labour market creating over 157,000 jobs in September, bringing our unemployment rate to 6.9%, its lowest since the start of this pandemic.
Thanks to the hard work of Canadians, the Government of Canada reached the target of one million jobs, restoring employment back to pre-pandemic levels. 
While Canadians are back to work and recovery is underway across the country, we know that the fourth wave is here and has hit some regions hard. And there are sectors of the economy that continue to face challenges.
Emergency supports are still here for Canadians and the Canadian businesses who need them. This includes:
Maintaining flexible access to EI benefits for another year, until the fall of 2022;
Helping Canadian businesses by further extending the Canada Emergency Wage Subsidy (CEWS), the Canada Emergency Rent Subsidy (CERS), and Lockdown Support until October 23, 2021;
Supporting Canadian businesses to hire workers through the Canada Recovery Hiring Program and extending this program until March 2022;
Providing support to Canada's hardest-hit sectors to help businesses and communities get back on track;
Extending the Canada Recovery Benefit (CRB), the Canada Recovery Caregiving Benefit (CRCB), and the Canada Recovery Sickness Benefit (CRSB) until October 23, 2021;
Increasing the maximum number of weeks available for the CRB, by an additional 4 weeks, to a total of 54 weeks, at a rate of $300 per week, and ensuring it is available to those who have exhausted their employment insurance benefits.
For more information on what is available to you, please click here.
---
As the situation is changing daily, please check the following websites for daily updates in Toronto and across Canada:
Local businesses continue to need our support! Find out what stores are open, or what restaurants are offering takeout and delivery. The following BIAs have put together lists of businesses that are still open, albeit doing things a bit differently. Let's do what we can to support our local businesses:
COVID-19 has changed the daily lives of people around the world. During these difficult times, it is critical that Canadians be able to obtain credible information and access services to support their mental health and wellbeing. That's why the government launched a portal dedicated to mental wellness: Wellness Together Canada.
This portal will connect Canadians to peer support workers, social workers, psychologists and other professionals for confidential chat sessions or phone calls, and will make it easier to find credible information and help address mental health and substance use issues.
Although we're far apart physically, our young people must feel help is close.  Kids Help Phone is a remote mental health service that connects youth with professional counselling, information and referrals across Canada without any face-to-face contact. Contact Kids Help Phone at 1-800-668-6868, by texting 686868, or by going online to kidshelpphone.ca.