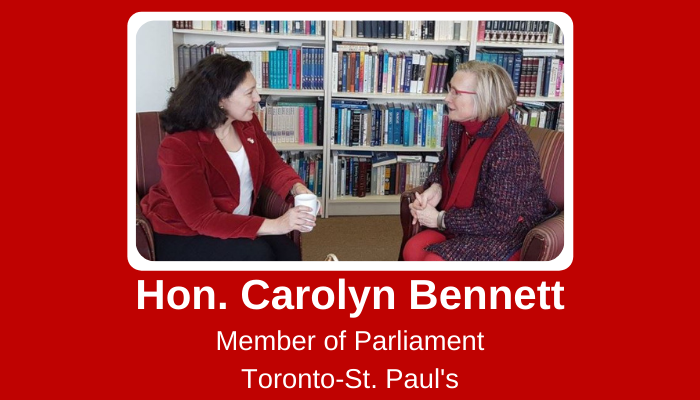 Dear Friends and Neighbours, 
We in Toronto-St. Paul's, are increasingly alarmed by the rise of antisemitism in Canada and around the world.
When I first ran for public office, at many doors I was asked the question 'Have you ever been to Israel?' I must say I didn't understand at that time that they weren't asking about tourism destinations; they were wanting to know if I understood the importance of that small democratic country surrounded by countries that did not agree with its existence.
I grew up immersed in the Jewish community, from customers at our family flower shop needing the deliveries before sundown on the holidays, to my Brownie pack at Forest Hill United Church and summer camp where we all learned the song Shalom Chaverim, which we knew was about peace, although we didn't know it was about hoping friends and family would come home.
I grew up not knowing what the absence of peace feels like. I grew up never targeted by hatred or discrimination because of my race or religion, at a time where many thought it was fine to use derogatory words to describe a population. I don't think I really understood how much those racial and religious slurs hurt people. I did know they made me uncomfortable. Israel is home to Jewish people. I remember one PRIDE week when a friend of mine explained the bond and support of the Jewish Community –'we were together in the ghetto'.
I have been to Israel eight times. On each of the first two visits as Chair of the Canada-Israel Parliamentary Friendship Group, I was able to take one of my sons. We felt the insecurity and heard first-hand how desperately they sought peace. They don't want their sons and daughters to have to go to war. They want the terrorism to stop. They want a good life for the Palestinian people. They believe and seek Tikkun Olam.
I went to Israel with PM Jean Chrétien for his Honourary degree. I was inspired as part of the delegation of the Young Leaders Program. A program that is run through the Centre for Israel and Jewish Affairs offering Canadian student leaders the opportunity to learn about Israel through first-hand experience. 
In 2000, I led a delegation of over twenty Parliamentarians during an April long weekend in solidarity with Israel during the Second Intifada. Our movements were very limited. We didn't feel safe. For the first time, I felt what it was like to not take peace and security for granted.
As Minister of State (Public Health) I led a delegation to learn from Israelis about emergency preparedness.
During the Gaza war in the summer of 2014, I joined another delegation in solidarity with Israel. I stayed a few days longer to join our Special Representative to listen and try to understand the possibility of peace.
The recent horrific anti-Semitic and anti-Islamic events have raised the consciousness of all Canadians. I have heard from Jewish students who have explained the fear they felt as they had to walk by BDS displays at their universities.
Therapeutic leadership was demonstrated by Rabbi Splansky with the Ring of Peace around the Imdadul Islamic Centre after the Quebec Mosque shooting, and by the Imams at the reciprocal Ring of Peace around Beth Tzedec and Holy Blossom after the Pittsburgh shootings. We continue to come together to share the goal of the elimination of hate and discrimination.
One of my favourite destinations in Israel has always been the Museum on the Seam in East Jerusalem dedicated to dialogue, understanding and co-existence. The New York Times has called it 'one must see before I die'. Its rooftop view is breathtaking. Its focus on equality, human rights and diversity are shared with Israeli schoolchildren and all those who come to visit physically or virtually.
The Hon. Irwin Cotler has always said that it is important to listen to one another's narrative. All those who have the narrow David and Goliath view of the situation in the Middle East need to think of the Israeli children in the bomb shelters, just as they think of the innocent Palestinian civilians caught in the crossfire. The Palestinian people are suffering. We need to support them in order to reduce the support for terrorist organizations such as Hamas who do not seek peace.
Now is the time. Canada has the opportunity to lead the world in dialogue and peace. Ambassador Bob Rae is doing a truly amazing job at the U.N. breaking down stereotypes and speaking on the Canadian principles of peace, order and good governance.
Everyone needs to feel safe. Swastikas on Muskoka chairs in Downsview Park have no place in the Canada we love. Islamophobia has no place in this country, home to so many. We have to root out the haters. There have to be consequences.
We are so grateful for the leadership of my friend and colleague Ya'ara Saks. She is there in dialogue with the Jewish and Arab Parliamentarians. We are making progress in listening to one another's narratives. Canada can help show the way. As Bono said, 'the world needs more Canada'.
I want to thank the inspiring Jewish community leaders who joined my colleagues Ya'ara Saks, Rob Oliphant, MP Marco Mendicino and I for a roundtable on combatting antisemitism on June 30. We are grateful for this important dialogue as we work together to combat this issue.
Our Toronto-St. Paul's riding is home to one of the largest Jewish communities in our country and every single person should be able to feel safe because there's absolutely no place for hatred and antisemitism in Canada.
Sincerely, 
Hon. Carolyn Bennett
Member of Parliament for Toronto-St. Paul's
---