March 11, 2021
This letter was first sent as an email to our constituents. To receive regular updates from our office regarding COVID-19, sign up using the "Get Updates" link in the menu.
---
Dear Friends and Neighbors,
On Friday, March 13, 2020 I arrived home from Ottawa ... on what would be the last flight I have taken in a year. We had decided to shut down Parliament and hoped we'd be able to return in late April. We had our annual St. Patrick's Day celebration booked for that Sunday and struggled with whether we would should cancel. I remember reading the guidelines - avoid spaces where one couldn't physically distance, avoid sharing food, singing - so it was three strikes and we were out.
Robert Oliphant, Carolyn and Josh Matlow</em
After my first summer caucus as an MP, I visited Grosse Iles and the Irish Memorial National Historic Site; the gravesites honouring all those who had boarded ships to come to Canada hoping for a better life. Stories of disease and quarantine ships. A monument reflecting the green luscious terrain of Ireland they had left and the rocky inhospitable land they had chosen. The stories of the hardship and the resilience were heartbreaking and inspiring. The following March we hosted our first St. Patrick's Day celebration, celebrating the little Irish in all of us but more importantly how the celebration brings us all together; Protestants and Catholics, Jews and Muslims. Differences disappear. We can all sing the songs: some happy – When Irish Eyes are Shining, My Wild Irish Rose; some sad – Danny Boy and Molly Malone. In past years, Rob Oliphant and Josh Matlow have joined us as we sang to sweet Molly MATLOW.
I think the sadness, and stress of this past year will ensure that when we are finally are able to be share food together, and sing together and just be together with friends and families and neighbours, we will really feel how important it has been for our communities to come together while apart, helping those in most need, supporting our local businesses and expressing gratitude for our essential workers. We will never take these elements of our vibrant community for granted again.
We will build back better. We will never again be complacent. As living through the Depression and World War 2 shaped the attitudes of my parents, the lived experience of Covid-19, the soaring performance of science and experts, and the new awareness of the role government must play to fill the gaps when the private sector and the charitable sectors are challenged at the same time will shape the attitudes of all of us Covidians.
I believe that the recovery will need to focus on women and youth. The she-cession is real. We cannot lose a generation because Covid erased so many opportunities for young people. Please join our neighbouring MP's Oliphant and Mendicino next week to share your ideas to ensure that the recovery from Covid19 will benefit the most people and those that will need our help the most.
So let's stay well. As the vaccines rollout, we can't let down our guard. We'll still have to heed public health measures: wash our hands, physically distance, wear our masks, stay home when sick.
It's been a long and difficult year. I am so proud to represent Toronto-St.Pauls. You have demonstrated the neighbourliness that Jane Jacobs described as the essential ingredient in building strong communities. Thank you … it won't be long till we can be together again.
---
UPCOMING EVENTS & COMMUNITY ENGAGEMENT 
---
Tele Townhall on Covid19 Recovery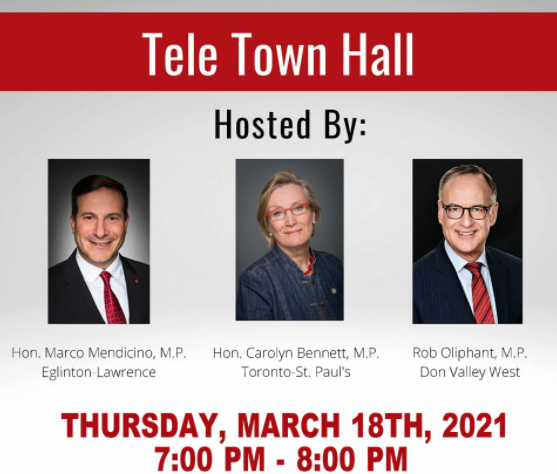 Join Federal MPs from Toronto-St. Paul's, Eglinton-Lawrence, and Don Valley West for a call-in Town Hall as we discuss the ongoing COVID recovery plans and take questions from constituents. To join, please email [email protected] before Sunday, March 14.
---

These times are challenging and we understand the constant updates and announcements can be overwhelming. We will continue to update you every month with 'New News' - the most recent updates and things to know!
If you'd like weekly 'New News' updates, follow @carolyn.bennett.stpauls on Instagram.
New News Updates
Transit - Investing in public infrastructure helps build stronger communities! The government has announced $14.9 billion for public transit projects over the next eight years. This includes $2.75 billion in funding, starting in 2021 to support the purchase of zero-emission public transit and school buses, associated infrastructure and other projects that support electric transit systems. The government's goal in investing in public transit infrastructure aims to shorten commute times for families, creates good middle-class jobs, cuts air pollution and helps grow the economy. For more information, click here.
Research & Projects - The global pandemic has made it clear just how important a role research plays in finding solutions to real-world challenges. Canada is home to some of the brightest and most skilled researchers in the world, and we are continuing to support their work as they find solutions to the challenges of today and tomorrow. The government has announced funding for nearly 1,000 researchers and more than 100 research projects across the country. This investment will ensure our top academic minds have the best possible tools to conduct their work, and help us beat COVID-19, advance reconciliation, and fight climate change. For more information, click here.
Reformed Criminal Justice - A justice system that targets racialized communities does not keep us safe. The government is committed to creating a justice system that is fair, effective and keeps all Canadians safe. Bill C-22, and continued efforts across the country and government are important steps forward in the fight to root out systematic racism, protect Canadians and ensure a more effective justice system. For more information on Bill C-22, click here.
Opioid Crisis - The opioid crisis has taken far too many lives in Canada and sadly, the pandemic has only increased opioid-related deaths and hospitalizations across our communities. The government has responded to this epidemic by focusing on improving access to overdose prevention, working with provinces and territories to ensure a regular supply of opioid medications and treatments, and developing and distributing a toolkit to help service providers support opioid users in following public health guidelines.
The Wellness Together Canada website was a part of the investment to support research on mental health and substance use during the pandemic. Wellness Together Canada offers free counselling and substance abuse support. We will all work together to keep Canadians safe and healthy and build back a more resilient Canada for everyone. To learn more about the MySafe Society - Safer Supply Project, click here.

The level of uncertainty during these times can be discouraging. But we want to assure you that our government is unwavering in its commitment to protect Canadians from COVID-19 and support them during these times. As we continue to share updates, we aim to provide you with the most up-to-date information with as much clarity as possible.
Vaccines Procurement and Distribution
Canada is now set to receive 8 million COVID-19 vaccine doses by the end of March, and millions more in the spring and summer. Pfizer is accelerating vaccine shipments by 1.5 million in March, and 1 million additional doses in both April and May, moving deliveries ahead of schedule. With Pfizer deliveries alone, Canada will be receiving more than 12.8 million doses between April and June, for a cumulative total of 36.5 million doses by the end of June. These deliveries put Canada well within the timeline to have enough vaccines for all Canadians by the end of September. For more information on vaccine procurement and distribution, click here.
New Vaccines
Two new milestones were reached within the past weeks – the approval of the AstraZeneca and Janssen COVID-19 vaccine for use in Canada. Between now and September, we will receive 10 million doses of the Janssen vaccine. We have also secured 20 million doses of the AstraZeneca vaccine which will start arriving in the spring.
Although vaccines are here, with more doses on the way, we're not out of the woods just yet. Please continue encouraging your constituents to follow local public health advice, avoid all non-essential travel, wear masks, and use the COVID Alert application. Together, we will stop the chain of infection, save lives, and get back to normal life sooner.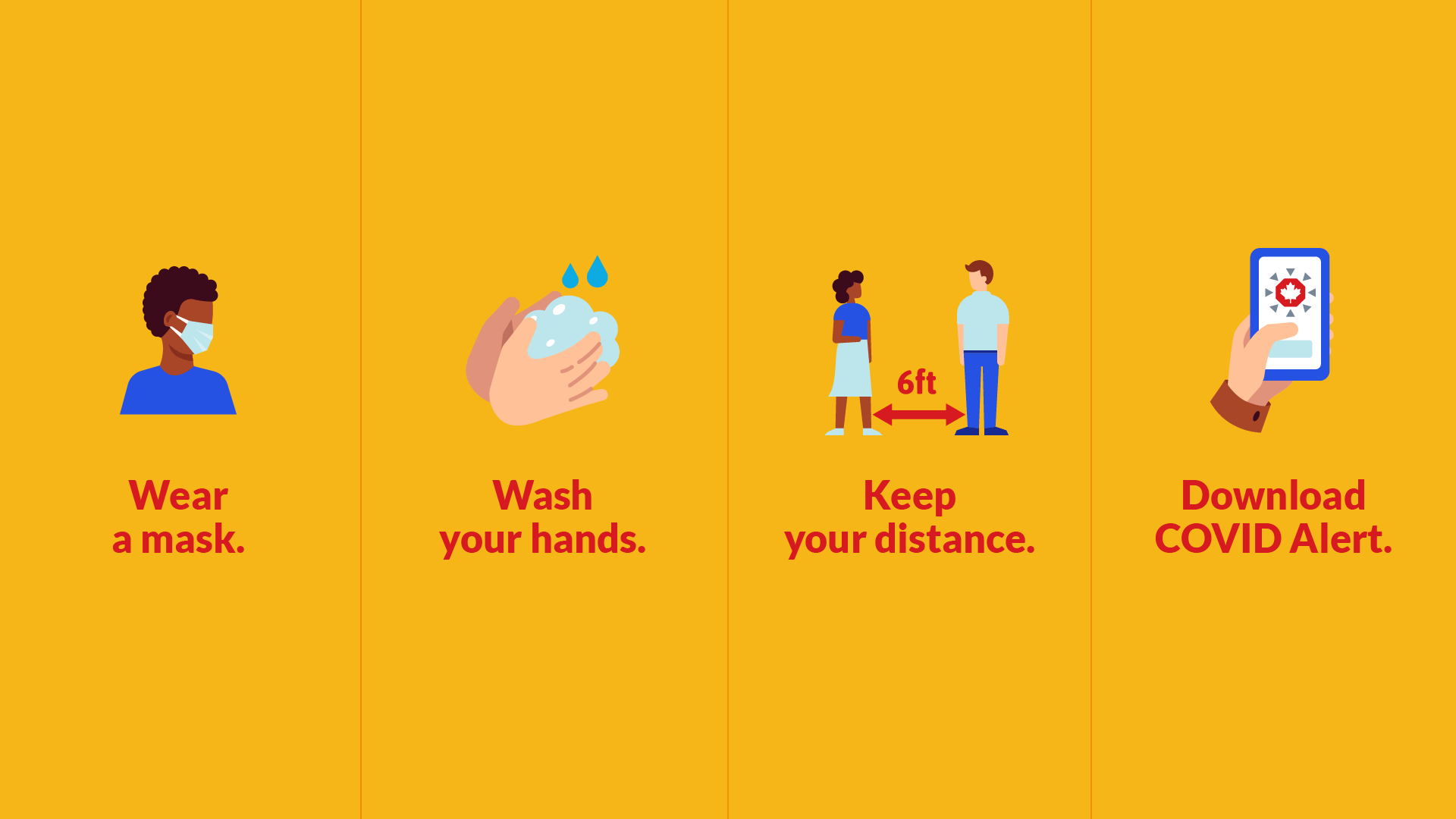 Hotel Quarantine
Made in Canada Vaccine #MadeinCanadaProject
When this pandemic began, Canada had no biomanufacturing capacity suitable for a COVID-19 vaccine due to under-investment in vaccine production capacity that began decades ago. To continue to protect Canadians now and into the future, the government is investing in Canada's ability to produce vaccines and treatments here at home. Increasing Canada's biomanufacturing capacity is part of Canada's recovery plan. It is in Canada's interest both now, and in the future, to have biomanufacturing capability within our borders. For more information on the #MadeinCanadaProject, click here.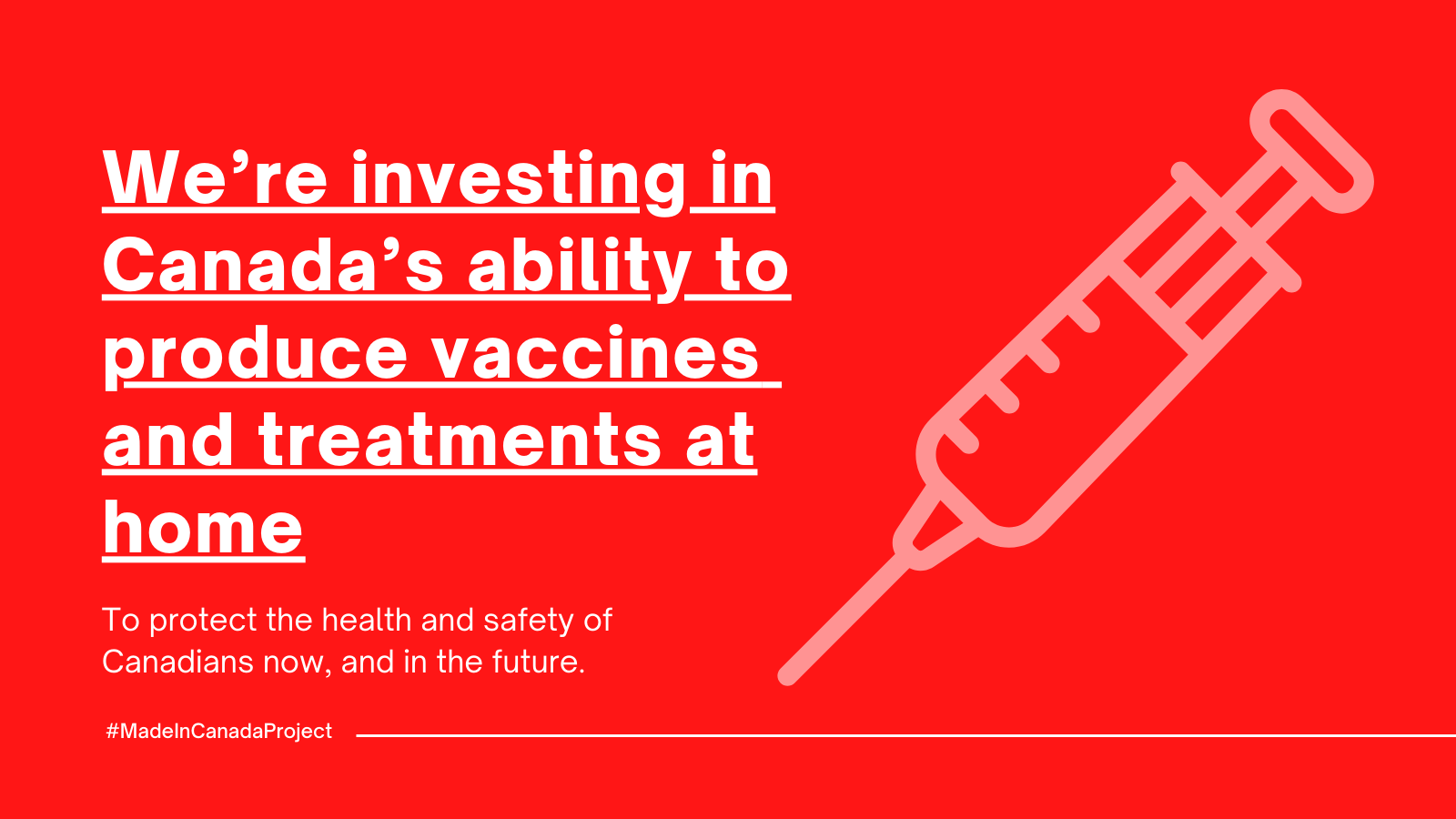 ---

The Black Entrepreneurship Program Loan Fund
Starting in May, the Loan Fund will begin accepting applications for loans of up to $250,000 to Black business owners and entrepreneurs. The Loan Fund has been co-developed with leaders from Canada's Black-led business organizations, with the government's investment being delivered by the Federation of African Canadian Economics (F.A.C.E).
Ministers Guilbeault and Chagger, and project proponent the LGBT Purge Fund, in cooperation with the National Capital Commission, announced Five Teams Selected to Propose Designs for the LGBTQ2+ National Monument in Ottawa. The design teams have until August 2021 to complete their proposals for the monument, which will memorialize the profound impact of the discrimination experienced by Canada's LGBTQ2+ communities and will celebrate their achievements.
Call for Proposal - Indigenous Early Learning & Child Care
Minister Hussen highlighted a call for proposals to help shape the future of Indigenous early learning and child care. This call for proposals will support new approaches to Indigenous governance, coordination and delivery of culturally appropriate early learning and child care. Indigenous communities, governments and organizations are encouraged to submit a proposal by April 14 at 2:00 p.m.
A series of virtual roundtables with ocean innovators, academia, women and global leaders, and the fishing and aquaculture industries will be hosted by the government. Canadians are invited to provide their views and input until June 15, 2021 on the Blue Economy Strategy website. The feedback received will inform the development of this whole-of-government strategy, which will be released in late fall. Canada's Blue Economy Strategy is expected to contribute to sustainable oceans, drive investment in our ocean industries, and create jobs in coastal communities as Canada charts its economic recovery from COVID-19.
---
RESOURCES
---
As the situation is changing daily, please check the following websites for daily updates in Toronto and across Canada:
or download the Canada COVID-19 app.
BENEFITS FINDER
The last few months have been difficult– so our government has put in place a number of measures to support Canadians. If you need support, visit Canada.ca/coronavirusbenefits and fill out the survey for a quick and trusted way to see what programs may be available to you.
---
IN OUR COMMUNITY
---
OPEN FOR BUSINESS
Now more than ever, local businesses that make our main streets vibrant need our help. Find out what stores are open, or what restaurants are offering takeout and delivery. The following BIAs have put together lists of businesses that are still open, albeit doing things a bit differently. Let's do what we can to support our local businesses:
---
MENTAL HEALTH SUPPORT
---
WELLNESS TOGETHER CANADA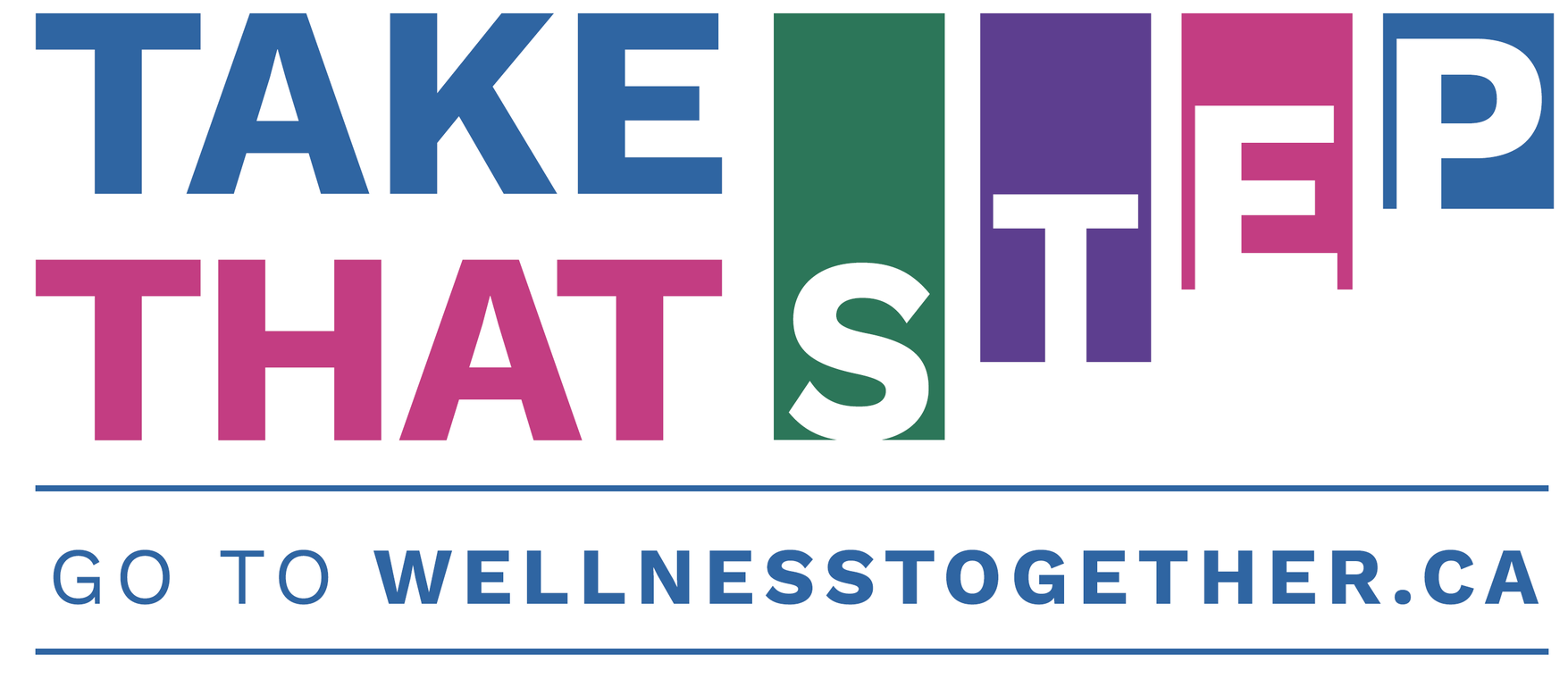 COVID-19 has changed the daily lives of people around the world. During these difficult times, it is critical that Canadians be able to obtain credible information and access services to support their mental health and wellbeing. That's why our government launched a portal dedicated to mental wellness: Wellness Together Canada.
This portal will connect Canadians to peer support workers, social workers, psychologists and other professionals for confidential chat sessions or phone calls, and will make it easier to find credible information and help address mental health and substance use issues.
KID'S HELP PHONE
Although we're far apart physically, our young people must feel help is close.  Kids Help Phone is a remote mental health service that connects youth with professional counselling, information and referrals across Canada without any face-to-face contact. Contact Kids Help Phone at 1-800-668-6868, by texting 686868, or by going online to kidshelpphone.ca.
---
STAY SAFE
---
All Canadians are advised to:
STAY HOME AND AWAY FROM OTHERS IF YOU'RE FEELING ILL
As local governments continue to modify public health measures, you should continue to stay home and away from others if you have symptoms. If you start to develop symptoms of COVID-19, isolate yourself from others and contact your health care provider or local public health authority. Adjust your behaviours and routines based on their advice.
Wear a medical mask if you're ill and will be in close contact with others or need to go out to access medical care. If a medical mask isn't available, wear a non-medical mask or cloth face covering.
HOW TO WEAR A NON-MEDICAL FACE MASK PROPERLY
Health Canada has released a video showing how to properly wear a non-medical mask or face covering to limit the spread of COVID-19 when physical distancing is difficult. Watch it here: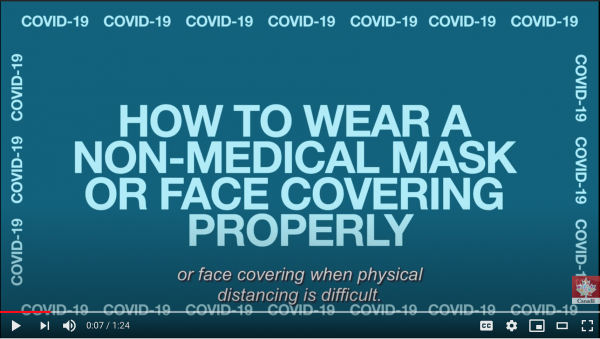 ---
The constituency office is closed to walk-in visits but my team and I are here for you and continue to serve residents of Toronto-St. Paul's. Our office is fully operational by appointment, phone and email. Call us at 416-952-3990, or email [email protected] for assistance in any federal matter.
STAY IN TOUCH

Hon.

Carolyn Bennett
Member of Parliament
Toronto-St. Paul's

Constituency Office
40 Holly St - Suite 103
Toronto, Ontario, M4S 3C3
(416) 952-3990
[email protected]

www.carolynbennett.ca