This letter was  first sent as an email to our constituents.  To receive regular updates from our office regarding COVID-19, sign up using the "Get Updates" link in the menu.
---
Dear Friends and Neighbours,
Here's to a waaaaaaaay better 2021 for all of us …
We can indeed see the light at the end of the tunnel. We are seeing vaccines administered into the arms of our frontline workers and seniors. We are grateful that Canada has approved and secured supplies of two vaccines and has six other agreements for potential vaccines in the works, two of which are currently under review by regulators. We are confident that every Canadian will have access to a free, safe, and effective vaccine.
But we can't let up on all our efforts to prevent the spread of this terrible virus. We must continue to wear our masks, physically distance, wash our hands and limit our contacts. We cannot swamp the public health ability to test, trace and isolate. We cannot allow our cherished health care system to be overwhelmed. We have to speak out when we see those not following public health guidelines. We have to download the CovidAlert app and encourage our friends and family to do the same.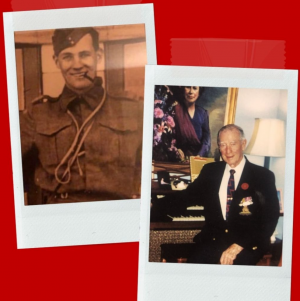 Jack Bennett - Carolyn's Father</em
This Sunday, my Dad would have turned 103. We lost him over 10 years ago. There isn't a day that goes by when Peter and I don't ask each other what Jack Bennett would say or advise. Dad was born at the end of WW1 in the year the Spanish Flu arrived. He lived through the Depression. At 21, he joined the Forest Hill Village police department. As WW2 recruitment depleted the ranks of first responders, Dad was moved to the fire department when the Village was able to bring back retired police officers. In 1941, Dad enlisted in the Sportsman's Battery. He landed at Juno Beach in 1944 DDay +5 and later defended the bridge at Nijmegen in Holland. When he returned to Canada, he married my mother and joined her in the family business Eunice Denby Flowers. He was a kind, wise and practical man.
So often during the pandemic, the commentary comparing those who went to war, not knowing how long it was going to last, to those who seem to have trouble being asked to stay home and sit on their couch has made me think of my Dad. He would never have made the comparison to the sacrifices he made, but I can't help thinking he would be truly offended by those disregarding the rules and putting others at risk. He would have been so proud of those coming out of retirement to help, those who changed their business focus to help, those who, when asked, took on different responsibilities. Dad would always say: "We just did what we were asked to do." Surely we can too.

---
LATEST ANNOUNCEMENTS
---
LARGEST IMMUNIZATION CAMPAIGN IN HISTORY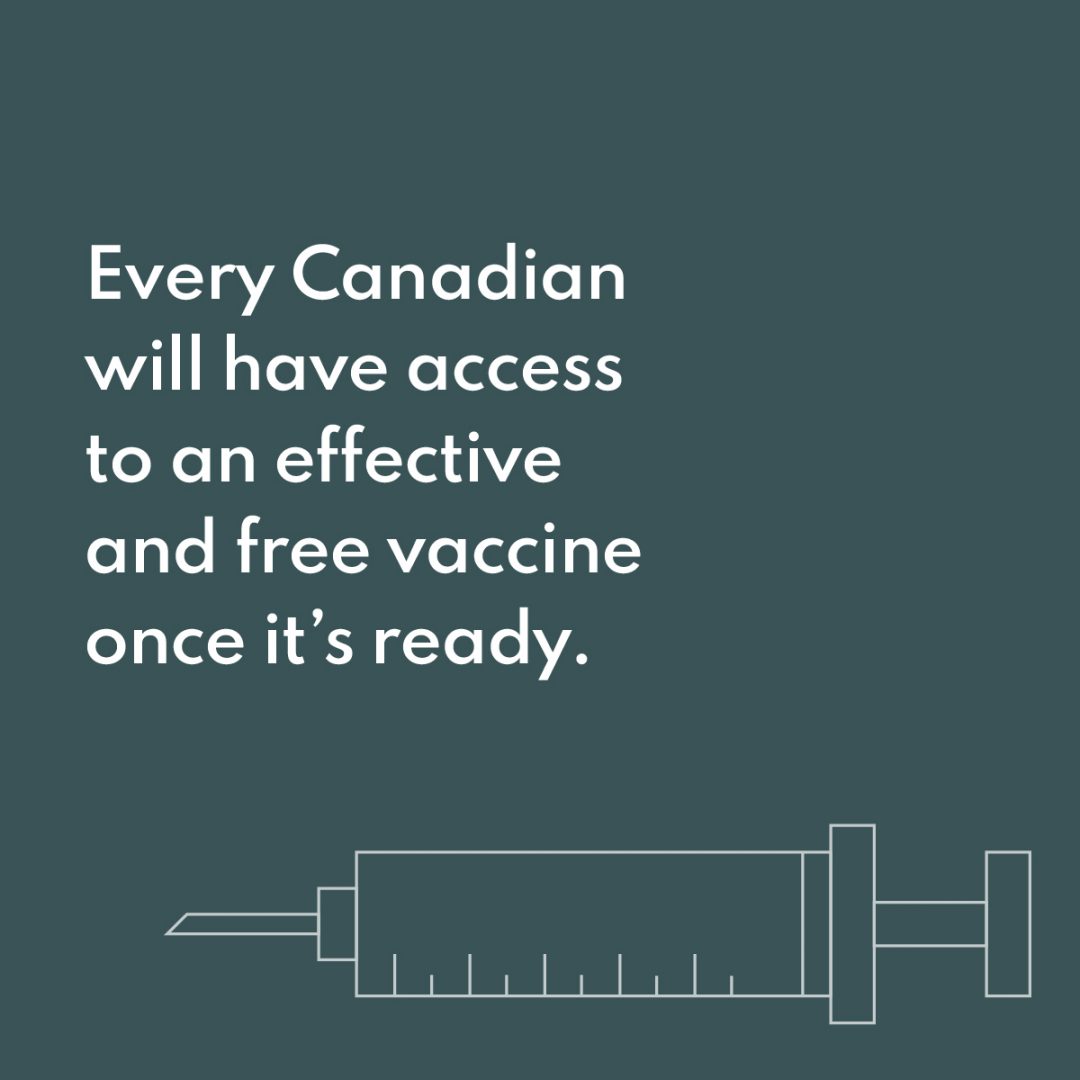 We enter 2021 with promise as we work together towards a safer and better year. We are at the beginning of the biggest immunization campaign in the history of our country. Canada has secured the highest number of COVID-19 vaccine doses per capita globally – putting Canada at the front of the pack to receive the vaccine.
Our government has worked diligently to prepare a quick and equitable Canada-wide COVID-19 vaccine campaign and is covering the costs of vaccines and the supplies needed to administer them. Since Health Canada authorized the Moderna and Pfizer-BioNTech vaccines in December, our government has already delivered nearly half a million doses to provinces and territories. As a country, we are on track to deliver more than a million doses by the end of January.
With two other vaccines currently under review by Health Canada, every Canadian can be confident that a free, safe, and effective vaccine will be available to them and their family by September of 2021. Until every Canadian is vaccinated, we must continue to follow public health advice. Together we can get through this winter, save lives, and help strengthen our economic recovery.
For more information please visit: vaccine distribution
COVID-19 UPDATES AND WHAT YOU SHOULD KNOW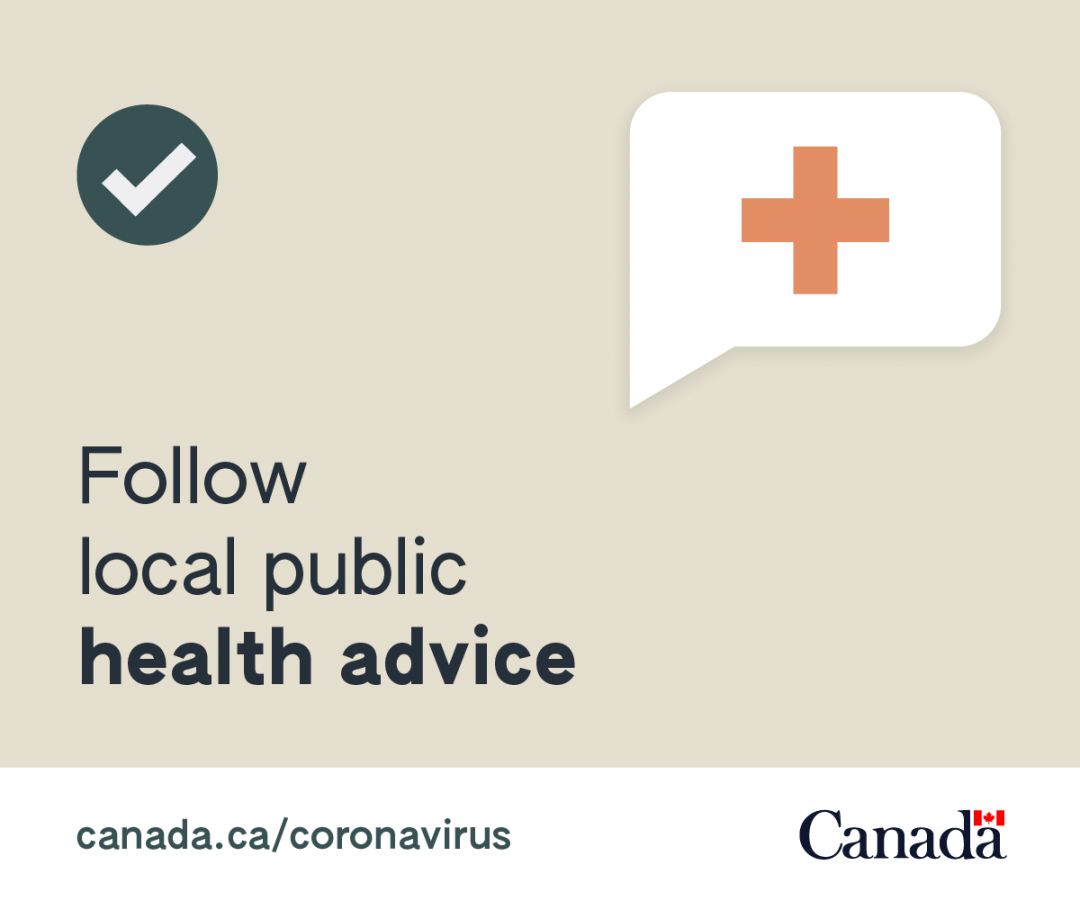 Canadian Recovery Sickness Benefit (CRSB)
Canadians should not have to choose between staying home from work when sick and putting food on the table. The Canadian Recovery Sickness Benefit is for workers that are sick or must self-isolate for reasons related to COVID-19. The purpose of this benefit is to provide workers with a paid sick leave option, where one might not be available through their employer.
The benefit was never intended to incentivize or encourage Canadians to not follow public health or international travel guidelines. Anyone who travelled for non-essential reasons will not be able to access the Sickness Benefit.
To learn more visit: Canada Recovery Sickness Benefit
Requirements for Air Travellers before arrival in Canada
So many people gave up so much more than just a vacation over this holiday season. Canadians made tough and responsible decisions to do their part in our fight together against COVID-19. Thank you for your sacrifices, efforts, and continued conscious decision to follow public health measures.
Canada has some of the strongest travel measures in the world. Since March, these rules have helped save lives. Starting this week, to be eligible to return to Canada, all travellers five years and older must have a negative COVID-19 test before boarding their flight. Failure to do so will mean an automatic denial of boarding. This is in addition to the mandatory 2-week quarantine. These tests, combined with quarantine requirements and symptom reporting, will help keep our imported cases of COVID-19 low in Canada.
For more information visit: Air Travellers Required to Test Negative for COVID-19
COVID Alert app updates
We recognize and appreciate that Canadians have been working hard to stop the spread of COVID-19. As cases grow, we must continue to rely on working together, while apart. With that, we encourage everyone to join the 5.6 million people who have already downloaded the application. New COVID Alert App features include:
The first update allows users to clear that screen that indicates exposure to COVID-19. After receiving a negative test result, the screen can be cleared enabling the app to alert the user of a new exposure;
An additional feature allows users to turn COVID Alert on and off without disabling Bluetooth; and
Is now available for Apple and Android phones released within the past 5 years.
To download now, please see the following: COVID-Alert App
DELIVERING FOR CANADIAN SENIORS
The Government of Canada is committed to strengthening Canadian seniors' financial security and improving their quality of life. Ambitious measures are making a real difference – however, there is more work to do. Canadian seniors can count on us to listen to their needs and work hard to deliver for them by providing the support they require to get through the second wave of this pandemic.The Canadian Government is supporting seniors by focusing on:
Stronger Income Security
The age of eligibility for Old Age Security has been restored to 65 years
Our government increased the Guaranteed Income Supplement by almost $1000 for single seniors
Canada Pension Plan's maximum yearly benefit for future retirees has been increased by about 50 percent
The reduction of taxes, by an increase to the Basic Personal Amount for seniors and other Canadians. When fully implemented, it will benefit 4.3 million seniors, including 465,000 whose federal income tax will be reduced to zero
Health and Well-being
To help seniors live longer at home, our government has invested an additional $6 billion in home care and community care
To help seniors access housing that meets their needs, at least 7,000 new affordable housing units for seniors are being built by the federal government. Support during the COVID-19 pandemic
Through one-time payments in April and July, our government provided over $1500 in tax-free support for low-income seniors couples
To help seniors and others get essential services and supplies, such as the delivery of groceries, half a billion dollars has been invested through partners like the United Way, food banks, and charities
Through the New Horizons for Seniors Program, over 2000 community pandemic support projects for seniors have been launched
The creation of a new online portal, Wellness Together Canada , provides free, credible mental health help to seniors and other Canadians
Long-term Care
While long-term care is regulated by provincial and territorial governments, the federal government is working with provinces and territories to protect residents and staff.
Other Measures
The following additional measures are among continued efforts to deliver for Canadian Seniors:
Our government created a Seniors' Minister to ensure seniors' interests are always considered at the cabinet table
The creation of the Canadian Centre for Cyber Security to provide advice and the RCMP's Nation Cybercrime Coordination Unit to bolster investigations focus on keeping Canadians safe from cybercrime. A little Black Book of Scams to help stop fraudsters is available to the public
A new Family caregiver benefit for Canadians who support loved ones covers a broader range of situations for those providing care to a critically ill or injured adult family member
To improve the quality of life for those diagnosed with dementia, our government created Canada's first National Dementia Strategy, backed by a $50 million investment. $20 million is invested to assist community organizations supporting seniors living with dementia and $31.6 million in research
To support and make public spaces accessible and communities more inclusive for seniors and those living with disabilities, $77 million has been invested into the Enabling Accessibility Fund
CANADA SUMMER JOBS FOR YOUNG CANADIANS (CSJ)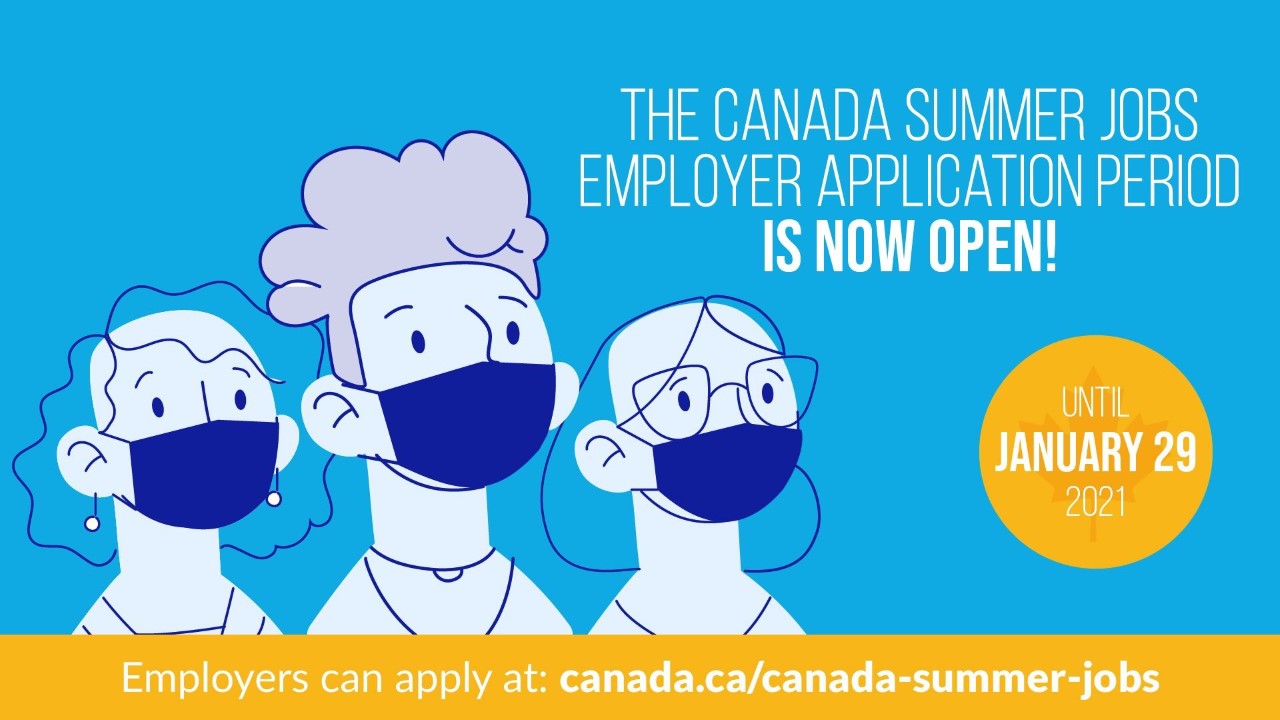 The COVID-19 pandemic has profoundly impacted young Canadians who are trying to find work. Minister Qualtrough announced that up to 120, 000 job opportunities will be available to young Canadians through Canada Summer Jobs (CSJ) in 2021.
With a significant increase in comparison to last year, more employers and youth can apply and benefit from the program. The employer application period for CSJ 2021 has opened as of December 21st, 2020 and will close on Friday, January 29, 2021.
For our communities to build back better, we need a strong workforce that includes good job opportunities for young Canadians.
For more details, please see the following: Canada Summer Jobs 2021
---
RESOURCES
---
As the situation is changing daily, please check the following websites for daily updates in Toronto and across Canada:
or download the Canada COVID-19 app.
BENEFITS FINDER
The last few months have been difficult– so our government has put in place a number of measures to support Canadians. If you need support, visit Canada.ca/coronavirusbenefits and fill out the survey for a quick and trusted way to see what programs may be available to you.
---
IN OUR COMMUNITY
---
OPEN FOR BUSINESS
Now more than ever, local businesses that make our main streets vibrant need our help. Find out what stores are open, or what restaurants are offering takeout and delivery. The following BIAs have put together lists of businesses that are still open, albeit doing things a bit differently. Let's do what we can to support our local businesses:
---
MENTAL HEALTH SUPPORT
---
WELLNESS TOGETHER CANADA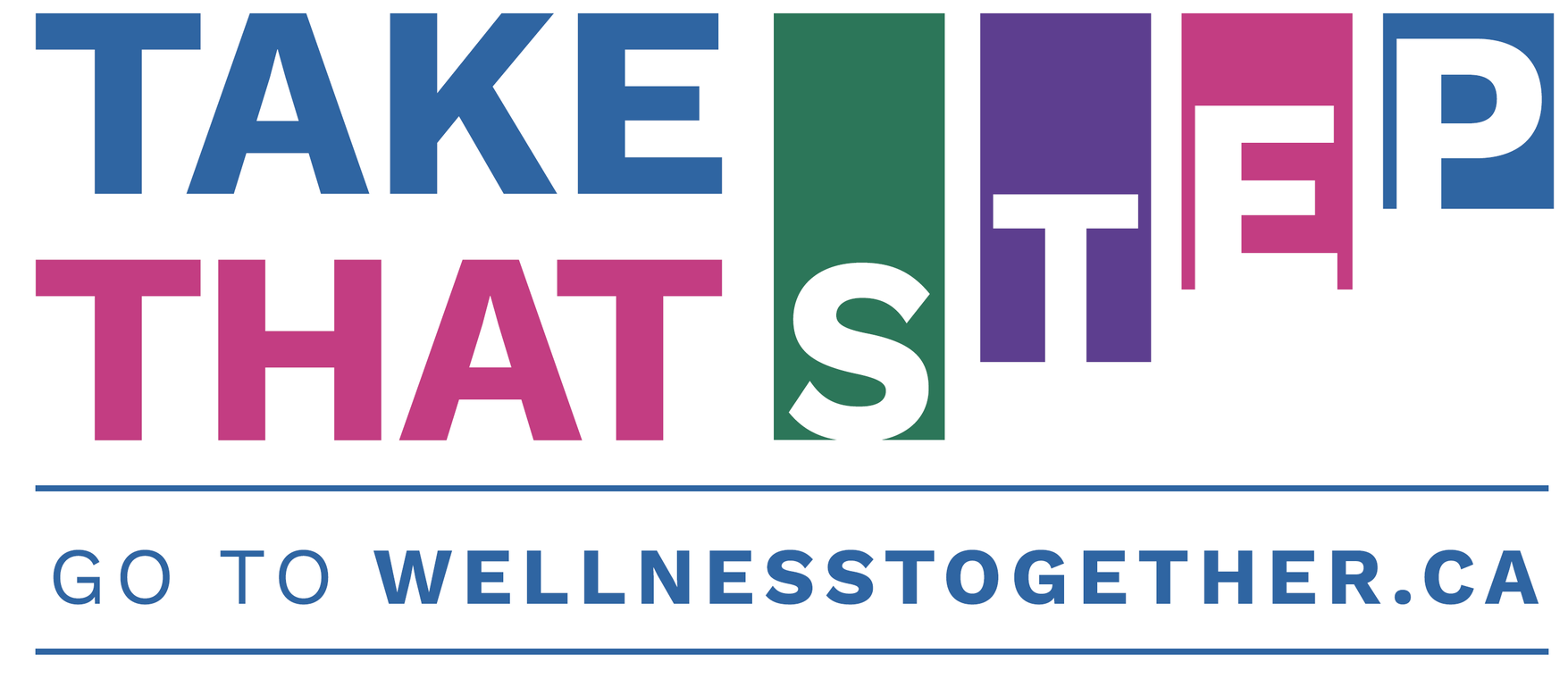 COVID-19 has changed the daily lives of people around the world. During these difficult times, it is critical that Canadians be able to obtain credible information and access services to support their mental health and wellbeing. That's why our government launched a portal dedicated to mental wellness: Wellness Together Canada.
This portal will connect Canadians to peer support workers, social workers, psychologists and other professionals for confidential chat sessions or phone calls, and will make it easier to find credible information and help address mental health and substance use issues.
KID'S HELP PHONE
Although we're far apart physically, our young people must feel help is close.  Kids Help Phone is a remote mental health service that connects youth with professional counselling, information and referrals across Canada without any face-to-face contact. Contact Kids Help Phone at 1-800-668-6868, by texting 686868, or by going online to kidshelpphone.ca.
---
STAY SAFE
---
All Canadians are advised to:
Avoid crowded places and non-essential gatherings
Avoid common greetings, such as handshakes or hugs
Keep a distance of at least a hockey stick length away from others not in your household
Wear a non-medical mask or face covering while out in public when it is not possible to maintain a 2-metre physical distance from others, particularly in crowded public settings such as stores, shopping areas and on public transportation
Limit contact with people at higher risk, such as older adults and those in poor health
Wash your hands often with soap and water for at least 20 seconds. Use alcohol-based hand sanitizer if soap and water are not available
Avoid touching your face
STAY HOME AND AWAY FROM OTHERS IF YOU'RE FEELING ILL
As local governments continue to modify public health measures, you should continue to stay home and away from others if you have symptoms. If you start to develop symptoms of COVID-19, isolate yourself from others and contact your health care provider or local public health authority. Adjust your behaviours and routines based on their advice.
Wear a medical mask if you're ill and will be in close contact with others or need to go out to access medical care. If a medical mask isn't available, wear a non-medical mask or cloth face covering.
HOW TO WEAR A NON-MEDICAL FACE MASK PROPERLY
Health Canada has released a video showing how to properly wear a non-medical mask or face covering to limit the spread of COVID-19 when physical distancing is difficult. Watch it here: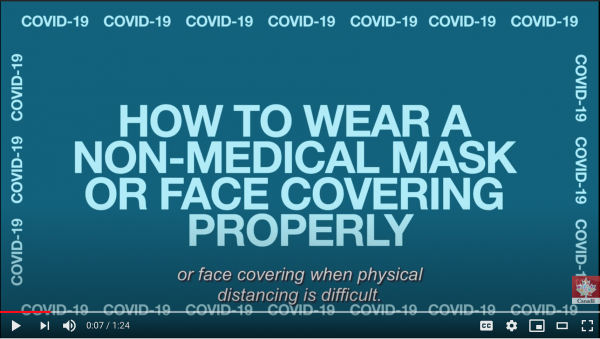 ---
The constituency office is closed to walk-in visits but my team and I are here for you and continue to serve residents of  Toronto-St. Paul's. Our office is fully operational by appointment, phone and email. Call us at 416-952-3990, or email [email protected] for assistance in any federal matter.
STAY IN TOUCH

Hon. Carolyn Bennett
Member of Parliament
Toronto-St. Paul's

Constituency Office
40 Holly St - Suite 103
Toronto, Ontario, M4S 3C3
(416) 952-3990
[email protected]

www.carolynbennett.ca