This letter was  first sent as an email to our constituents.  To receive regular updates from our office regarding COVID-19, sign up using the "Get Updates" link in the menu.
---
CELEBRATE CANADA #TOGETHERWHILEAPART
---
GET A CELEBRATE CANADA TOGETHER LAWN SIGN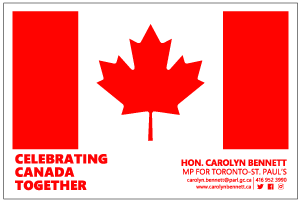 I have loved seeing all the lawn signs celebrating our 2020 graduates.
Our office has created Celebrating Canada Together lawn signs available to anyone in the riding to help show our Canada Day pride throughout Toronto-St.Paul's.
Fill out the form here to request a complimentary sign. We will arrange a physically distanced drop-off.
#CelebratingWhileApart
This year in Toronto-St. Paul's, we are planning to celebrate Canada Day while apart. We can't be together at Wells Hill Park. We won't be able to gather for a Sunrise ceremony. We won't be able to sing O Canada together. We'll have to cook our own hotdogs and plan our own games for the children.
So instead, we want to hear your Canada Day stories, recipes, and art to post on our website and connect our community!  This week we are collecting your favourite #CanadaDay recipes! Send them to us at [email protected]. or share them on social media: tag me and use the hashtag #CelebratingWhileApart.
We want this to be the best Canada Day ever, #CelebratingWhileApart.
CANADIAN HERITAGE'S CANADA DAY ONLINE
Canada Day is a one of a kind event that brings together Canadians across the whole country. This is why, in light of the current and ongoing COVID-19 pandemic and the government's priority of keeping Canadians safe, Canadian Heritage has decided to host Canada Day online in a way that will bring all Canadians together and allow them to express their national pride in a virtual environment. Visit the Canada Day online website to learn more and download a virtual Celebration Kit.
---
COVID-19 UPDATE
---
Dear Friends and Neighbours,
Somehow it feels like we've been holding our breath for months and now we are experiencing the reality of being able to gently, tentatively exhale.  Getting outside in lovely weather has been important.
The flowers are blooming and the trees are forming the extraordinary canopy that is the signature of Toronto-St.Paul's.  We are walking more and enjoying it more. #ActiveTO weekend road closures have made room for thousands of people to enjoy physical activity without overcrowding our most popular trails. I don't think we will ever take Spring for granted again. We really did 'Stay Calm and Hibernate' and we did indeed 'flatten the curve'.
Now we need to protect ourselves from a second wave. We need to follow the public health guidelines: keep washing our hands, practice physical distancing and where that is not possible wear a cloth mask.
This week was particularly poignant for me as our country and our communities are still dealing with more and more undeniable evidence of systemic racism and discrimination. I had the honour of having a conversation with the inspiring Métis author and professor Jesse Thistle about his best-selling, heart-warming and heart-wrenching memoir From the Ashes.  Rewatch the Facebook event here: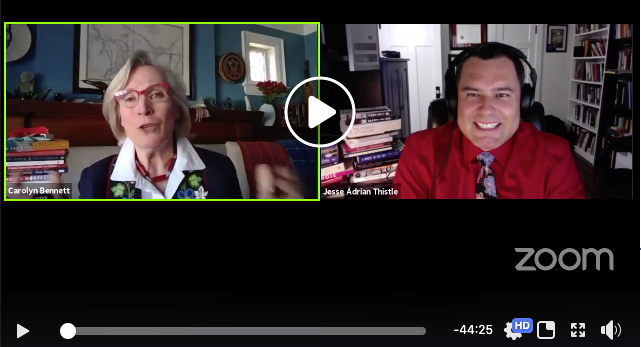 and then read the book. The dust jacket describes it as "An eloquent exploration of the impact of prejudice and racism".  I wish I could prescribe it to all Canadians as an important step towards a better understanding of the damaging effects of colonial policies and abuse.
In this National Indigenous History Month, and especially this Sunday's National Indigenous Peoples Day, as well as with our #IndigenousReads initiative, we are all challenged to learn about and celebrate the beauty and strength of First Nations, Inuit and Métis culture and the importance of protecting Indigenous knowledge. As we #BuildBackBetter after COVID-19 economically, socially and environmentally, we will need the guidance of First Nations, Inuit and Métis more than ever.
Anishinaabe Elder David Courchene, Métis/Cree Knowledge Keeper Maria Campbell and Inuk Professor Karla Williamson joined Ministers Miller, Vandal and me for a compelling conversation on the importance of protecting Indigenous knowledge in Canada that we will share with you. The first part of our conversation will be posted on the GCIndigenous and GCAutochtones Youtube channels on Sunday afternoon. Listening to the wisdom of these extraordinary people will inspire you and leave you wanting more.
On Sunday, we will celebrate National Indigenous Peoples Day virtually.  On this special day, let's get outside, get up and watch the sunrise, and be thankful for the new day.  Then, let's read a story or a poem by a First Nations, Inuit or Métis author or watch a film by an Indigenous filmmaker online. Read the Truth and Reconciliation Commission Calls to Action and determine what we can do together on the journey of reconciliation in our communities.  We all need to look at our unconscious biases and what we need to do to take down the systemic discrimination in all our institutions.
As we continue to celebrate this month with Fathers Day, Indigenous Peoples Day, PRIDE, Portuguese, Italian and Philippine culture, Saint-Jean Baptiste and Multicultural Day, we will be building up to the best ever Canada Day.
Get your lawn sign. Send in your recipes and stories.
Let's keep "CelebratingTogetherWhileApart".

---
LATEST ANNOUNCEMENTS
---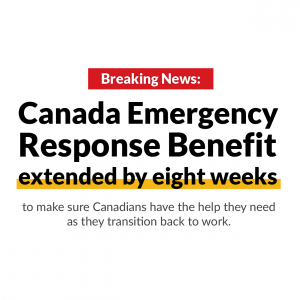 EXTENDING THE CERB
Many Canadians are beginning to return to work, but some still face challenges due to COVID-19. That is why our government is extending the Canada Emergency Response Benefit (CERB) by eight weeks, to ensure Canadians have the help they need as they transition back to work.
As we begin to restart the economy, workers should be seeking work opportunities or returning to work, provided they are able and it is reasonable to do so. That is why the government will also make changes to the CERB attestation, which will encourage Canadians on the benefit to find employment and consult the Job Bank website for new opportunities.
As we begin to take steps to safely restart our economy, we will continue to support Canadians to protect their health and economic well-being.
MOBILE APP TO HELP NOTIFY CANADIANS OF COVID-19 EXPOSURE
This week our government announced the upcoming launch of a new nation-wide mobile app to provide notifications of exposure to COVID-19 across Canada, with beta testing to begin in Ontario. The app, originally developed by the Government of Ontario, will help Canadians and public health officials identify and isolate the spread of the virus more quickly, which is an important step toward containing the virus and safely restarting the economy.
Use of the app will be voluntary. If someone tests positive for COVID-19, a health care provider will give them a unique temporary code, so they can upload their status anonymously to a national network. The app will be available to Canadians for free download in the coming weeks, with health authorities in Ontario being the first to distribute the unique, temporary codes to people who test positive for COVID-19.
---
RESOURCES
---
As the situation is changing daily, please check the following websites for daily updates in Toronto and across Canada:
or download the Canada COVID-19 app.
BENEFITS FINDER
The last few months have been difficult– so our government has put in place a number of measures to support Canadians. If you need support, visit Canada.ca/coronavirusbenefits and fill out the survery for a quick and trusted way to see what programs may be available to you.
CRA MY ACCOUNT
Do you have an online CRA account yet? My Account, the Canada Revenue Agency's secure portal, lets Canadians across the country view and manage their tax and benefit affairs quickly, conveniently, and securely… all online. You can apply for many of the COVID-19 emergency benefits, includng the Canada Emergency Response Benefit and the Canada Emergency Student Benefit, online through your CRA My Account. Don't have an account yet? Watch this video for tips on how to register: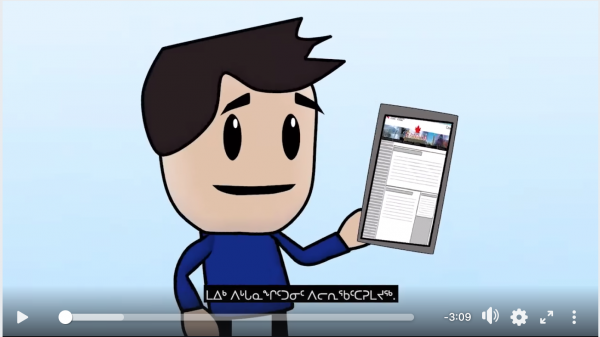 ---
SUPPORT OUR COMMUNITY
---
SUPPORT BLACK OWNED BUSINESSES
Buying from Black owned businesses is one way people across the city can help support Black members of the community. BlogTO has put together a list of Black owned businesses currently open in Toronto-St. Paul's and across Toronto that you can support right now. Find it here.
ST. CLAIR SUPPORTS THE STOP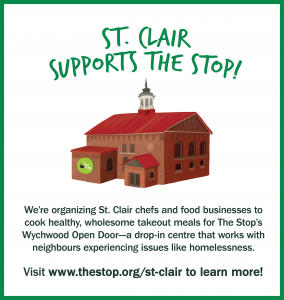 COVID-19 has hit the West Toronto community hard. Local restaurants and food businesses are fighting to stay in business, while thousands of our neighbours are struggling to keep food on the table.
You can help preserve the rich character of the Toronto-St. Paul's community and support our most vulnerable neighbours with one donation! The Stop Community Food Centre is raising money for local restaurants to cook meals for their Open Door program at 729 St. Clair West. To learn more visit: thestop.org/st-clair
OPEN FOR BUSINESS
Now more than ever, local business that make our main streets vibrant need our help. Find out what stores are open, or what restaurants are offering takeout and delivery. The following BIAs have put together lists of businesses that are still open, albeit doing things a bit differently. If you can, participate in takeout Wednesday (or Friday or Saturday)! Let's do what we can to support our local businesses:
FEED THE FRONTLINES
Feed the Frontlines TO is an extraordinary initiative supporting local businesses by feeding our frontline heroes. Amazing to see the businesses of #TOStPauls pitching in. If you can, please help this great initiative: https://twitter.com/feedthefrontto
---
MENTAL HEALTH SUPPORT
---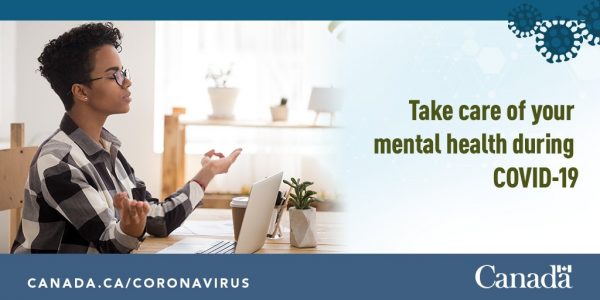 WELLNESS TOGETHER CANADA
COVID-19 has changed the daily lives of people around the world. During these difficult times, it is critical that Canadians be able to obtain credible information and access services to support their mental health and wellbeing. That's why our government launched a portal dedicated to mental wellness: Wellness Together Canada.
This portal will connect Canadians to peer support workers, social workers, psychologists and other professionals for confidential chat sessions or phone calls, and will make it easier to find credible information and help address mental health and substance use issues.
KID'S HELP PHONE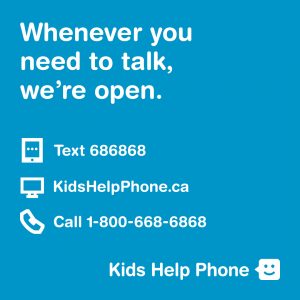 Although we're far apart physically, our young people must feel help is close. That is why our government announced $7.5 million in funding for Kids Help Phone. Kids Help Phone is a remote mental health service that connects youth with professional counselling, information and referrals across Canada without any face-to-face contact. Contact Kids Help Phone at 1-800-668-6868, by texting 686868, or by going online to kidshelpphone.ca.
---
STAY SAFE
---
In an effort to prevent the spread of COVID-19 within communities and across the country, all Canadians are advised to:
Avoid crowded places and non-essential gatherings
Avoid common greetings, such as handshakes or hugs
Keep a distance of at least a hockey stick length away from others
Wear a non-medical mask or face covering while out in public when it is not possible to maintain a 2-metre physical distance from others, particularly in crowded public settings such as stores, shopping areas and public transportation
Limit contact with people at higher risk, such as older adults and those in poor health
Wash your hands often with soap and water for at least 20 seconds. Use alcohol-based hand sanitizer if soap and water are not available
Avoid touching your face
HOW TO WEAR A NON-MEDICAL FACE MASK PROPERLY
Health Canada has released a video showing how to properly wear a non-medical mask or face covering to limit the spread of COVID-19 when physical distancing is difficult. Watch it here: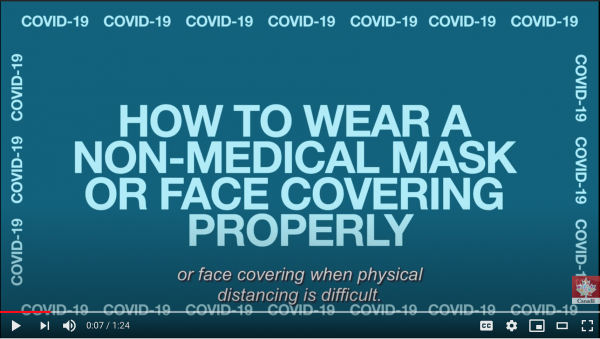 ---
The constituency office is closed to walk-in visits but my team and I are here for you and will continue to serve residents of  #TOStPauls.
Our office is fully operational by phone and by email. You can call us at 416-952-3990, or email [email protected] for assistance in any federal matter.