This letter was  first sent as an email to our constituents.  To receive regular updates from our office regarding COVID-19, sign up using the "Get Updates" link in the menu.
---
Dear Friends and Neighbours,
Celebrating Graduations, PRIDE, Indigenous History, Portuguese, Italian and Filipino Heritage Month and Canada Day will all be very, very different this year. We are celebrating together—while apart.
This month, we have all been able to be inspired by virtual graduations. Prime Minister Justin Trudeau spoke to all the 2020 grads praising this generation's resolve to be better: marching for climate change, courageously stating #MeToo, demanding reconciliation, standing up to declare that #BlackLivesMatter, and ensuring that we all understand that #LoveisLove and that people need to be free to be who they are.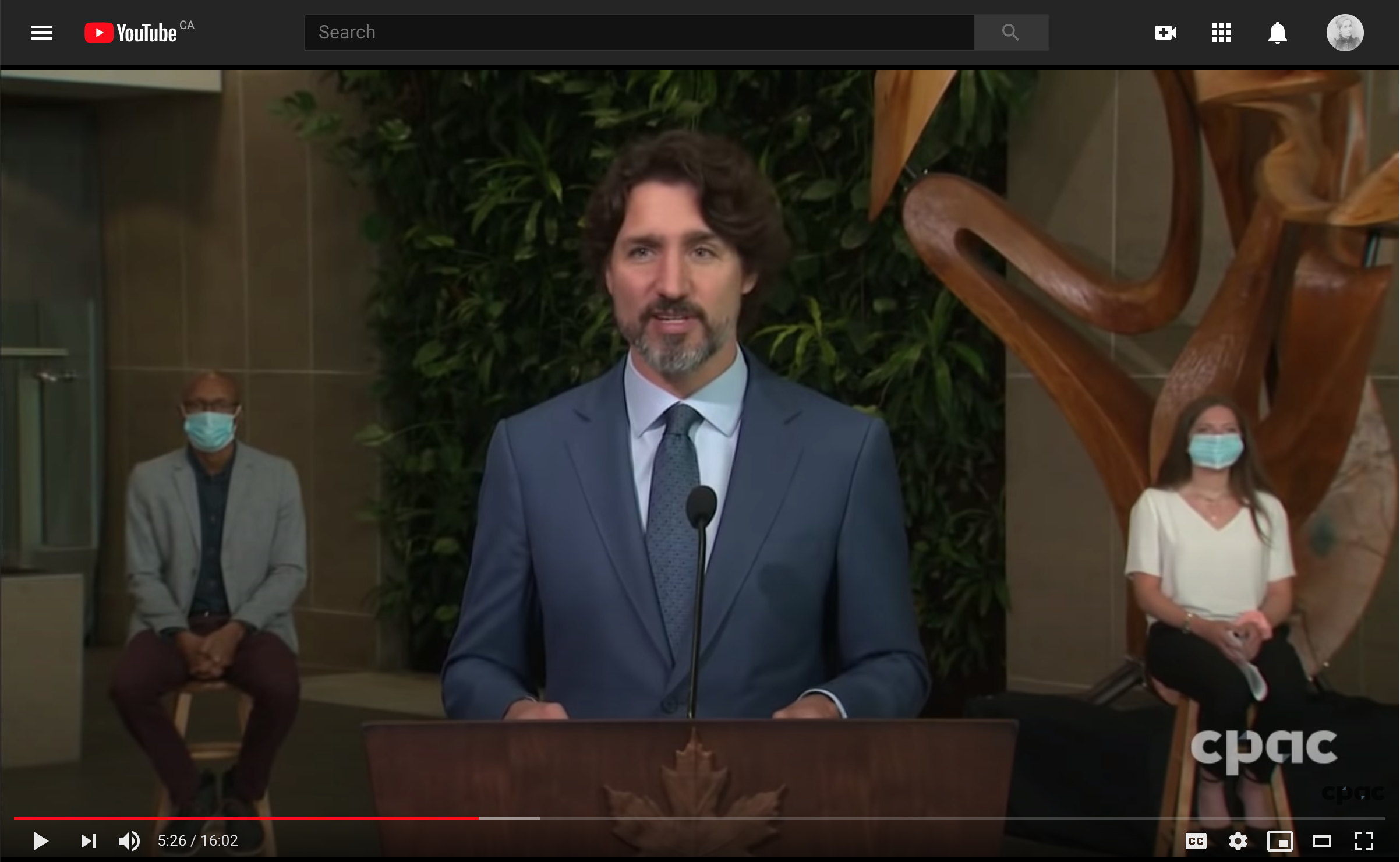 Former US President Barrack Obama reminded us that our society and democracy only work when we think about not just ourselves, but each other.
Never have nations' leaders been able to speak directly to so many on their special days. Whether graduating Kindergarten, Grade 8, Grade 12, College or University, COVID-19 has meant that the celebratory gatherings - all the hugs and tears and goodbyes - have been replaced with online attempts to ensure that the grads can feel the importance of this milestone, bask in the pride of their families and friends, and know that their 'commencement' at this historic time has signified their ability to be part of #BuildBackBetter. I love seeing all the lawn and window signs placed by proud parents celebrating the graduation of their sons and daughters.
This month, we miss celebrating Italian heritage in person at Casa Loma. We will not be at the Portuguese Parade on College. Nor with the Filipino Communities at their cultural celebrations. We will be celebrating with them while apart. It may be online or with delicious take-out, but their contributions to Canada will be celebrated!
It is hard to understand how we can possibly replicate the pride of PRIDE virtually. No Trans March, or Dyke March. No Church on Church. This year will be celebrated without the million people lining Yonge Street chanting 'Happy Pride!'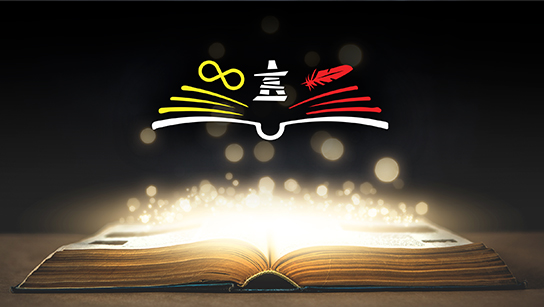 For Indigenous History month, we can still celebrate #IndigenousReads as we and our book clubs read and discuss a book by a First Nations, Inuit or Métis author. We hope you will join us on Facebook Monday night at 5:30pm as I am hosting a conversation with best-selling Métis author Jesse Thistle about his poignant memoir From the Ashes. Jesse's story of trauma, recovery and now inspiring leadership is a must-read for all Canadians.
Reading Indigenous authors helps us fill in the gaps about the true history of our country and the effects that colonial policies and intergenerational trauma have played in the lived experiences of the first peoples of Canada. Their stories describe the reality of systemic racism. It is impossible to read Richard Wagemese's Indian Horse or Thomas King's The Inconvenient Indian or Sheila Watt-Cloutier's The Right to be Cold or Marilyn Dumont's A Really Good Brown Girl without recognizing how much more we all need to know about Indigenous teachings, and why we will need their leadership as we chart a sustainable path forward.
On June 28, our amazing Toronto-St. Paul's Youth Council will be hosting a pre-Canada Day Virtual Town Hall on #BuildingBackBetter. The inspiring Kehkashan Basu will host guest panelists Dr. Chantal Line Carpentier, Chief of UNCTAD; Dr. Irene Henriques, Professor of Sustainability & Economics at the Schulich School of Business and Dr. Chares. H. Cho, Professor of Accounting and Erivan K Haub Chair in Business and Sustainability at the Schulich School of Business, on how we ensure that we don't go back to normal, but spring forward onto a better path.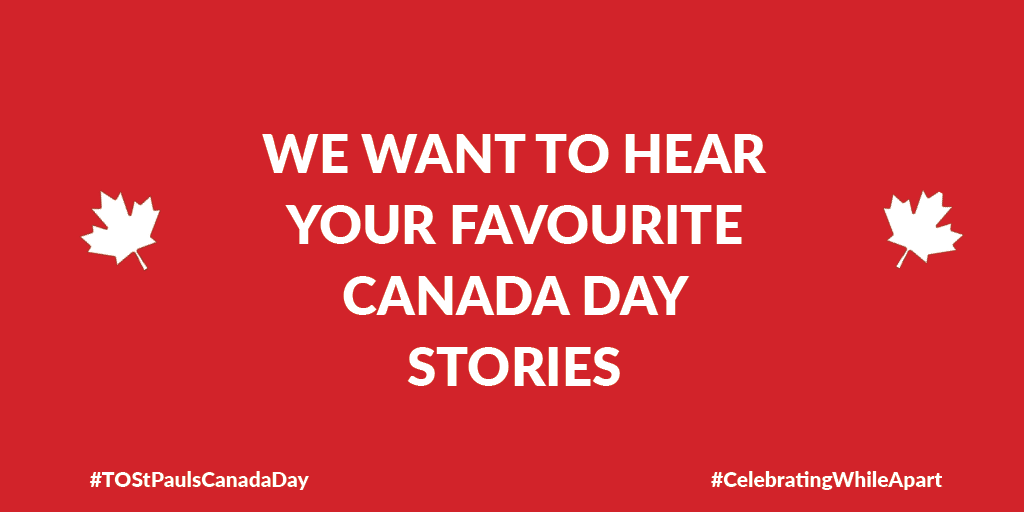 This year in Toronto-St.Paul's, we are planning to celebrate Canada Day while apart. We can't be together at Wells Hill Park. We won't be able to gather for a Sunrise ceremony. We won't be able to sing O Canada together. We'll have to cook our own hotdogs and plan our own games for the children.
So instead, we want to hear your Canada Day stories, recipes, and art to post on our website and connect our community!  This week we are collecting your favourite #CanadaDay stories! Send them to us at [email protected].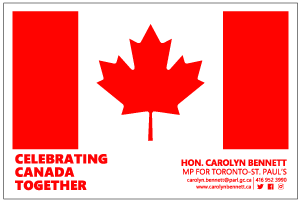 We also wanted to help our riding show our Canada spirit, so our office has created complimentary Celebrating Canada Together lawn signs available to anyone in the riding.  If you would like a sign, send your request to [email protected] with your address. We will arrange for a physically distanced drop-off.
We want this to be the best Canada Day ever, #CelebratingWhileApart.
We are all learning new ways of being together while apart. It seems like months ago that we took the decision to replace 'social distancing' with physical distancing. We knew that it was important for us all to be socially together while physically apart.
Never before has it been more important to stay together. We have lots to celebrate and lots of work to do to make this an even better country.

---
LATEST ANNOUNCEMENTS
---
SUPPLY HUB
Last week our government launched the federal Supply Hub to bring together available resources for organizations buying and selling personal protective equipment (PPE). The Supply Hub will connect Canadian organizations from coast to coast to coast with federal, provincial, territorial and other resources and information about PPE, including consumer guidance. Learn more about it here.
DIGITAL MAIN STREET PROGRAM
Traditional Main Street businesses in the retail, restaurant, and hospitality sectors have been among the hardest hit by the pandemic. Our government has implemented a comprehensive economic plan which includes the Emergency Wage Subsidy (CEWS), Canada Emergency Commercial Rent Assistance (CECRA), the Canada Emergency Business Account (CEBA) and the Regional Relief and Recovery Fund (RRRF).
This week our government announced an investment of $50 million from the RRRF to launch the Digital Main Street Program (DMS). DMS will help 23,000 SMEs across Ontario build out their digital and e-commerce capabilities (website development, e-commerce adoption, digital marketing, digital supply chain management, etc).
This program is being delivered by partner organizations, including the 315+ local Business Improvement Areas that make up the Ontario Business Improvement Area Association (OBIAA). Those who are interested in applying can sign up for the Digital Main Street Program at the following link: https://digitalmainstreet.ca/ontario/
---
RESOURCES
---
As the situation is changing daily, please check the following websites for daily updates in Toronto and across Canada:
or download the Canada COVID-19 app. The last few months have been difficult– so our government has put in place a number of measures to support Canadians.
BENEFITS FINDER
If you need support, visit Canada.ca/coronavirusbenefits and fill out the survery for a quick and trusted way to see what programs may be available to you.
CRA MY ACCOUNT
Do you have an online CRA account yet? My Account, the Canada Revenue Agency's secure portal, lets Canadians across the country view and manage their tax and benefit affairs quickly, conveniently, and securely… all online. You can apply for many of the COVID-19 emergency benefits, includng the Canada Emergency Response Benefit and the Canada Emergency Student Benefit, online through your CRA My Account. Don't have an account yet? Watch this video for tips on how to register: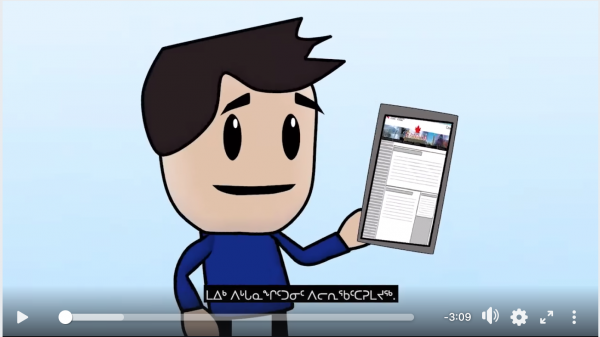 ---
SUPPORT OUR COMMUNITY
---
SUPPORT BLACK OWNED BUSINESSES
Buying from Black owned businesses is one way people across the city can help support Black members of the community. BlogTO has put together a list of Black owned businesses currently open in Toronto-St. Paul's and across Toronto that you can support right now. Find it here.
ST. CLAIR SUPPORTS THE STOP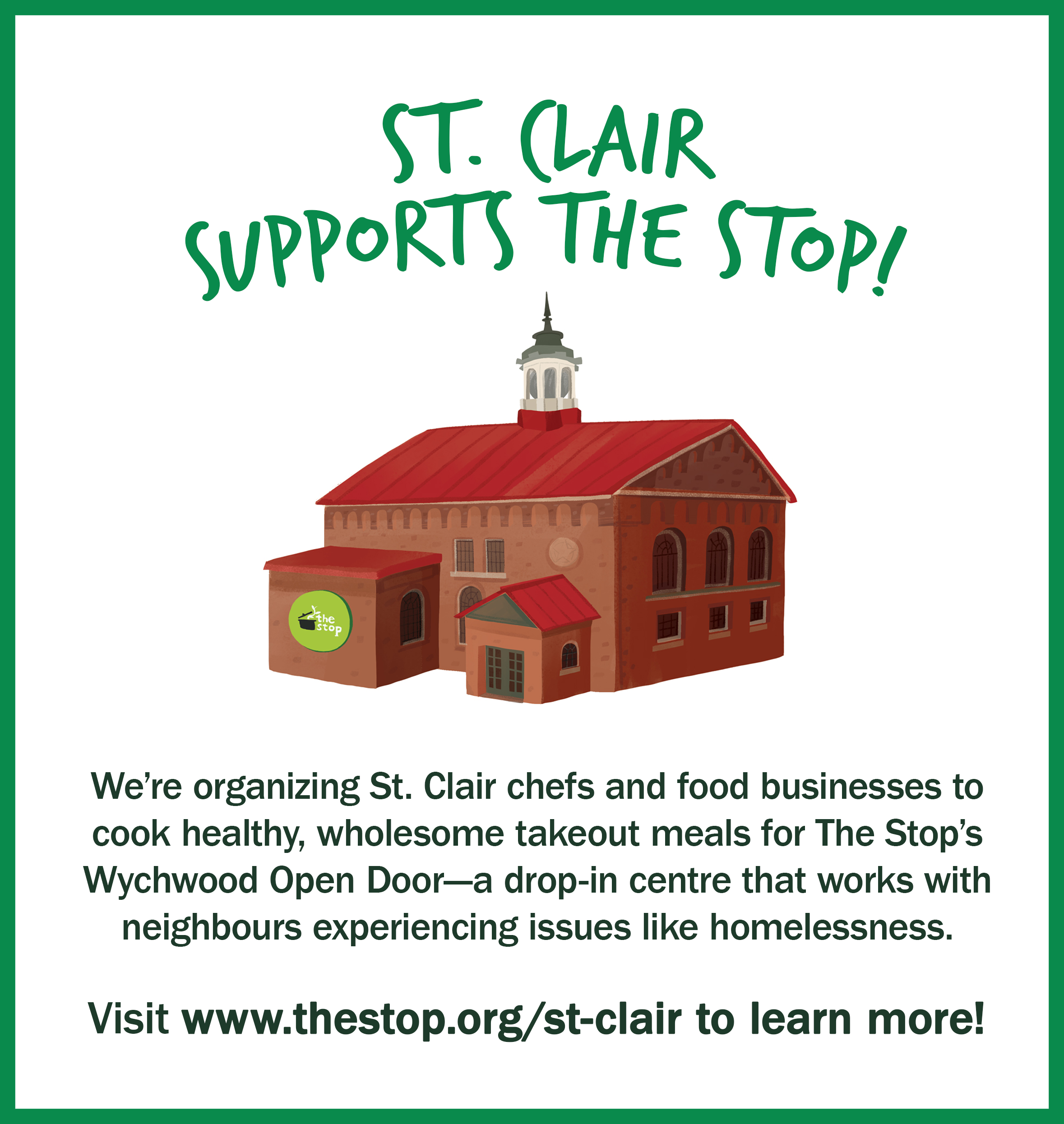 COVID-19 has hit the West Toronto community hard. Local restaurants and food businesses are fighting to stay in business, while thousands of our neighbours are struggling to keep food on the table.
You can help preserve the rich character of the Toronto-St. Paul's community and support our most vulnerable neighbours with one donation! The Stop Community Food Centre is raising money for local restaurants to cook meals for their Open Door program at 729 St. Clair West. To learn more visit: thestop.org/st-clair
OPEN FOR BUSINESS
Now more than ever, local business that make our main streets vibrant need our help. Find out what stores are open, or what restaurants are offering takeout and delivery. The following BIAs have put together lists of businesses that are still open, albeit doing things a bit differently. If you can, participate in takeout Wednesday (or Friday or Saturday)! Let's do what we can to support our local businesses:
FEED THE FRONTLINES
Feed the Frontlines TO is an extraordinary initiative supporting local businesses by feeding our frontline heroes. Amazing to see the businesses of #TOStPauls pitching in. If you can, please help this great initiative: https://twitter.com/feedthefrontto
---
MENTAL HEALTH SUPPORT
---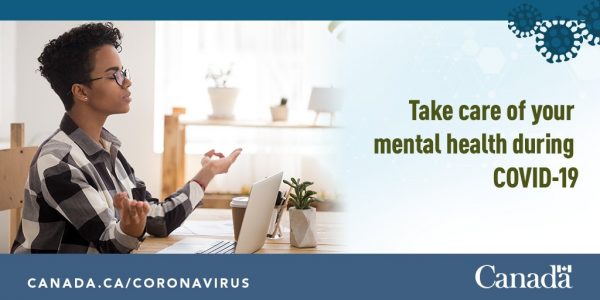 WELLNESS TOGETHER CANADA
COVID-19 has changed the daily lives of people around the world. During these difficult times, it is critical that Canadians be able to obtain credible information and access services to support their mental health and wellbeing. That's why our government launched a portal dedicated to mental wellness: Wellness Together Canada.
This portal will connect Canadians to peer support workers, social workers, psychologists and other professionals for confidential chat sessions or phone calls, and will make it easier to find credible information and help address mental health and substance use issues.
KID'S HELP PHONE
Although we're far apart physically, our young people must feel help is close. That is why our government announced $7.5 million in funding for Kids Help Phone. Kids Help Phone is a remote mental health service that connects youth with professional counselling, information and referrals across Canada without any face-to-face contact. Contact Kids Help Phone at 1-800-668-6868, by texting 686868, or by going online to kidshelpphone.ca.
---
STAY SAFE
---
In an effort to prevent the spread of COVID-19 within communities and across the country, all Canadians are advised to:
Avoid crowded places and non-essential gatherings
Avoid common greetings, such as handshakes or hugs
Avoid unnecessary visitors to your home
Avoid all non-essential trips in your community
Keep a distance of at least a hockey stick length away from others
Wear a non-medical mask or face covering while out in public when it is not possible to maintain a 2-metre physical distance from others, particularly in crowded public settings such as stores, shopping areas and public transportation
Limit contact with people at higher risk, such as older adults and those in poor health
Wash your hands often with soap and water for at least 20 seconds. Use alcohol-based hand sanitizer if soap and water are not available
Avoid touching your face
HOW TO WEAR A NON-MEDICAL FACE MASK PROPERLY
Health Canada has released a video showing how to properly wear a non-medical mask or face covering to limit the spread of COVID-19 when physical distancing is difficult. Watch it here: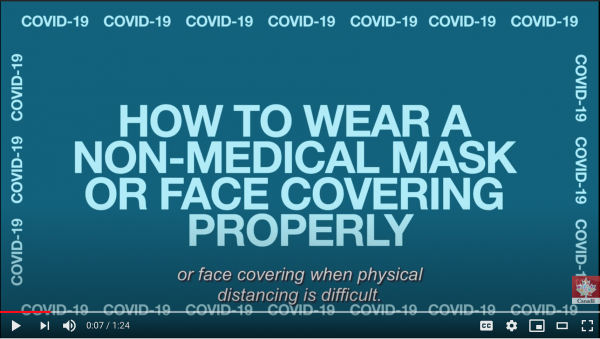 ---
The constituency office is closed to walk-in visits but my team and I are here for you and will continue to serve residents of  #TOStPauls.
Our office is fully operational by phone and by email. You can call us at 416-952-3990, or email [email protected] for assistance in any federal matter.