This letter was  first sent as an email to our constituents.  To receive regular updates from our office regarding COVID-19, sign up using the "Get Updates" link in the menu.
---
Dear Friends and Neighbours,
As we all look forward to this mid-summer long weekend, it feels very different this year.
This weekend, we won't be out dancing in the streets and celebrating the Toronto Caribbean Festival. This weekend, we will join the fantastic virtual events celebrating Caribbean culture and music at torontocarnival.ca. We will have to make our own rum punch and get take-out patties and roti at Albert's Fine Jamaican Foods or at one of the many other delicious Caribbean restaurants in Toronto-St.Paul's. Somehow this weekend, we are all looking forward to 2021.
Somehow this year, the name of this long weekend matters much more as we confront the ongoing struggle against racism in our country.
I remember being at a ceremony in 2008 with then Ontario Human Rights Commissioner Barbara Hall celebrating the designation of August 1st as Emancipation Day in Ontario.
Since 1862, the town of Owen Sound, the northern terminus of the Underground Railroad, has held its Emancipation Festival on August 1st celebrating the freedom of the Black community. You can tune in Saturday at 11am for the virtual event at emancipation.ca.
Nova Scotia Senator Bernard is now working to have August 1st recognized across Canada as Emancipation Day. This year will mark 186 years since the abolition of Slavery Act was passed for the British colonies which freed approximately 800,000 enslaved Africans. We should all rewatch Michael Apted's film 'Amazing Grace' which documents the courageous struggle of abolitionist British MP William Wilberforce who had been influenced by the experience of John Newton, the captain of a slave ship.
What may be less well known is that forty years before the UK Parliament abolished slavery, Ontario's first lieutenant-governor, John Graves Simcoe for whom Simcoe Day is celebrated in Toronto, introduced a statute that imposed limits on African enslavement - the first of its kind for a North American Colony. This statute prohibited the importation of enslaved people as chattel property, though unfortunately it did not go so far as to free those currently enslaved. In celebrating Simcoe Day we are also celebrating an abolitionist.
Today, Parks Canada announced the designation of four commemorative events and people in Black history in Canada: The Enslavement of African People in Canada (c. 1629–1834), Black Loyalist Richard Pierpoint (c. 1744–1838), Heavyweight Boxer Larry Gains (1900-1983), and the West Indian Domestic Scheme (1955-1967). It is vital that we ensure that Canadians have opportunities to learn about the full scope of our history, including the tragic and shameful periods that are part of our collective past. Commemoration is about remembering our history and committing to do better in the future.
COVID-19 has given us time to be more reflective. We are thinking about building back better and being more intentional about the need for all of us to be working towards equality, justice and a sustainable planet.
We mourn the loss of Senator John Lewis and celebrate his life and his fight for equality and justice. In 2014, at the commencement speech at Emory University he said "You must find a way to get in the way…You must find a way to get in trouble, good trouble, necessary trouble."
It is time for all of us to 'get in the way' of the status quo. It is time for all of us to speak out against racism.
This year, it is also crucial that we stand up and get into the 'good trouble' that will confront the irresponsible actions of those fighting against science, vaccines and masks. Their actions are putting at risk the lives of the most vulnerable in our society. The 'freedom-fighting' anti-maskers are risking the health of all of us.
Seatbelts, bicycle helmets and airport security checks are now accepted limitations on our freedom. In a rights-based society we balance the rights of the individual and its effects on our collective society. We don't have the right to make other people sick. We have the responsibility to do everything in our power to keep ourselves, our families, and our communities well.
My father-in-law, Peter O'Brian, a Spitfire pilot in the Battle of Britain, fought for freedom. His favourite saying was 'With freedom comes responsibility'.
This weekend, we celebrate the freedoms won on Emancipation Day and accept our responsibility to continue our fight against racism. This weekend we must also continue the fight against COVID-19 and our fight to have a world free from preventable disease. We can do both.

---
LATEST ANNOUNCEMENTS
---
CALL FOR APPLICATIONS FOR THE PRIME MINISTER'S YOUTH COUNCIL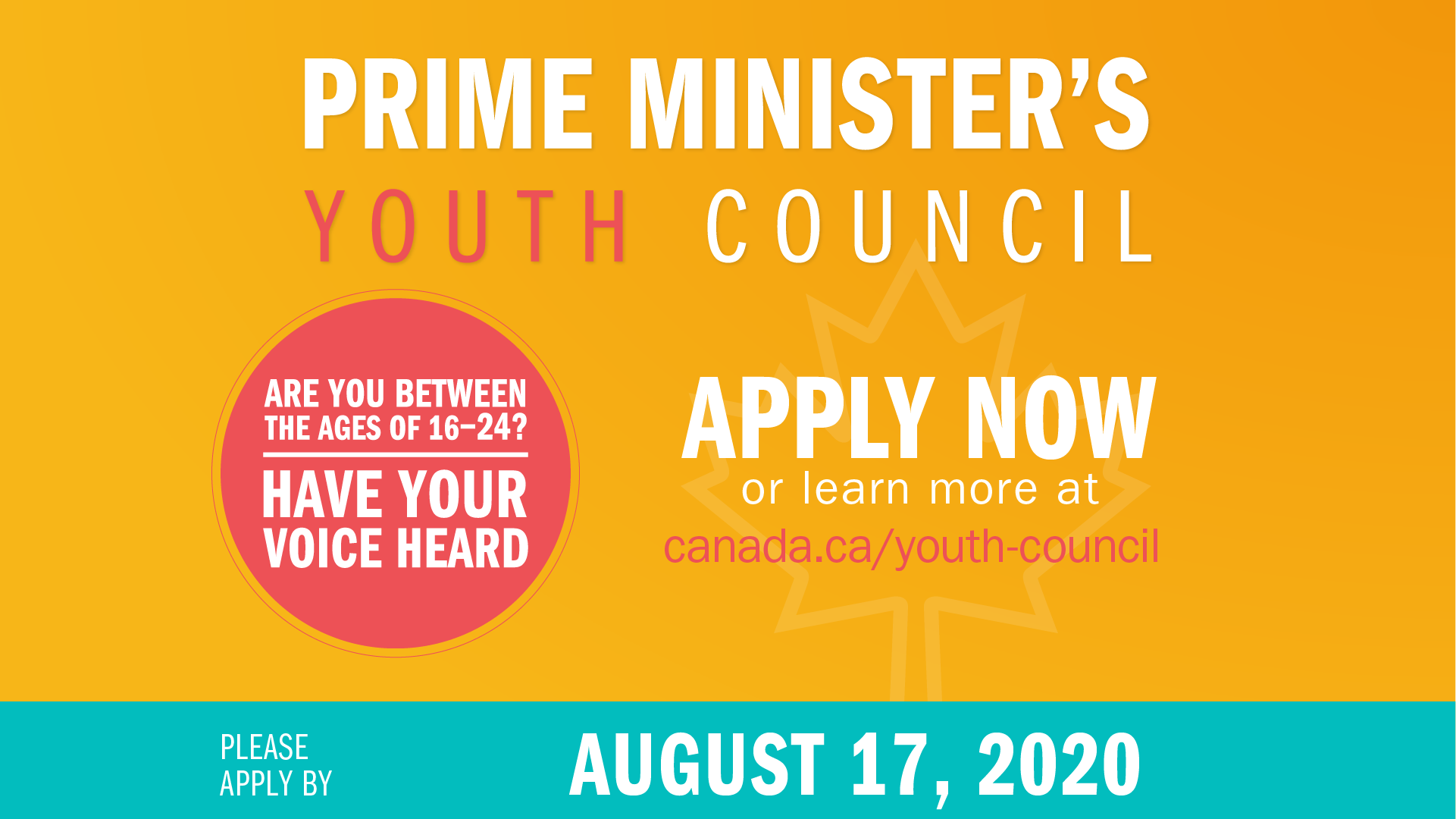 Prime Minister Justin Trudeau and the Minister of Diversity and Inclusion and Youth, Bardish Chagger, launched the recruitment campaign to find members for the next cohort of the Prime Minister's Youth Council (PMYC). They are looking for Canadians aged 16 to 24 from across the country, with wide-ranging backgrounds and experiences, who are eager to share their voices.
The PMYC provides an important platform for youth to provide non-partisan advice to the Prime Minister and the Government of Canada on issues of importance to them and to all Canadians. Members of the PMYC have the chance to help shape the future of Canada where young people have a say and are heard.
A key priority for the Government of Canada is to strengthen diversity and inclusion so that Canadians of all ages, cultures, ethnic backgrounds, races, religions, and sexual orientations and gender identities feel they have a voice and can participate fully as members of Canadian society. As Canadians work together in the face of the global COVID-19 pandemic, Canada needs a strong youth voice more than ever to build a stronger and more inclusive Canada.
Young Canadians can apply online on the PMYC website by August 17, 2020.
SAFE RESTART AGREEMENT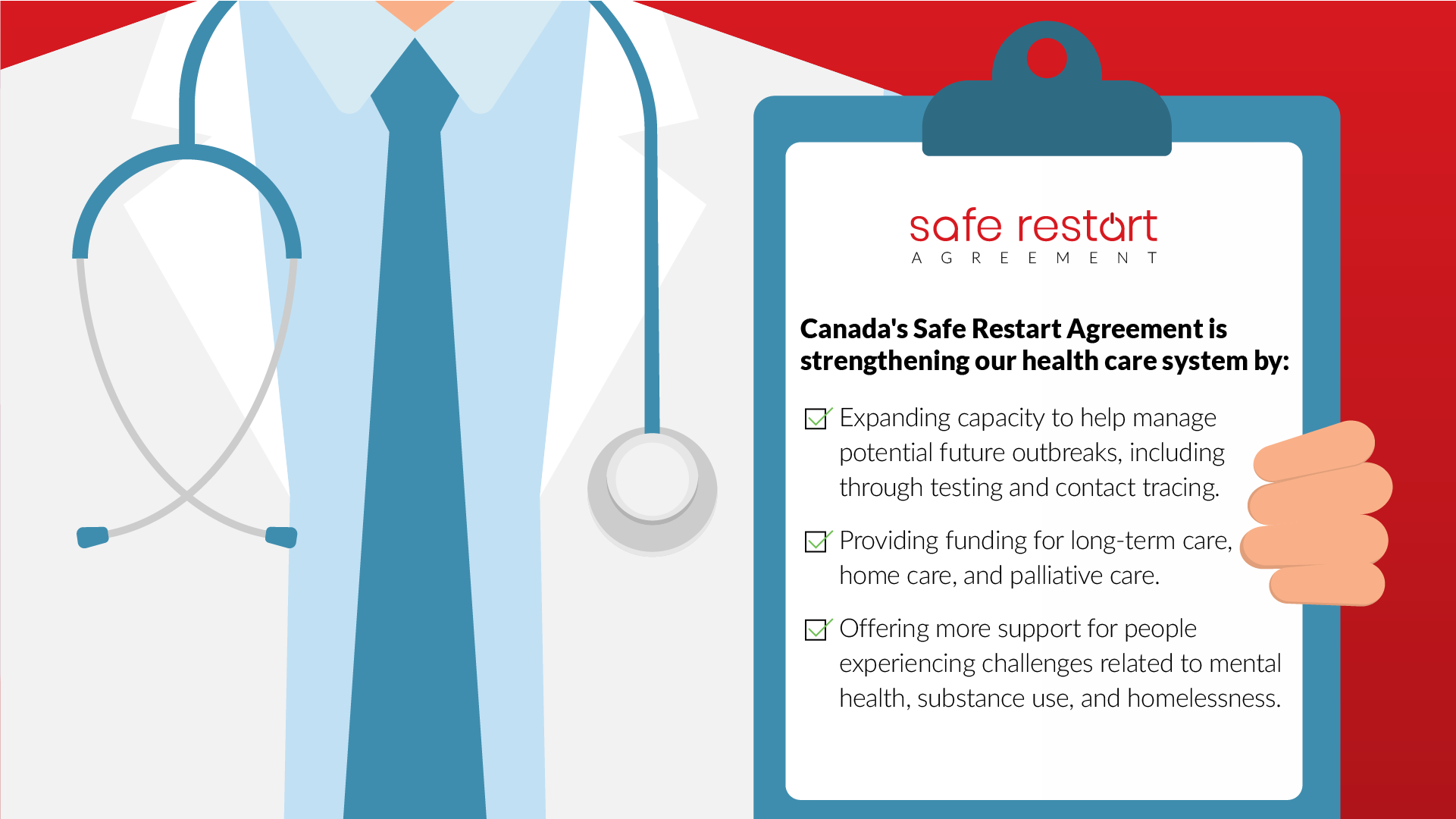 As we gradually restart the economy and take the initial steps to recover from the impacts of COVID-19, the Government of Canada continues to work with the provinces and territories to ensure Canadians stay safe and healthy, and have the support they need in these challenging times. This month our government announced a federal investment of more than $19 billion to help provinces and territories safely restart their economies and make our country more resilient to possible future waves of the virus.
This investment, through the Safe Restart Agreement, will help address the key priorities, agreed upon by Canada's First Ministers, for the safe restart of Canada's economy over the next six to eight months. The agreement will also help get funding quickly to municipalities so they can deliver essential services that Canadians rely on every day, like public transit.
The Safe Restart Agreement will address seven priority areas:
enhanced capacity for testing, contact tracing, and data management and information sharing to mitigate future outbreaks.
investments in health care to respond to the pandemic, including support for Canadians experiencing challenges with substance use, mental health, or homelessness.
support for vulnerable Canadians – including those in long-term care, home care, and palliative care – who are at risk of more severe cases of COVID-19.
funding to secure a reliable source of personal protective equipment, and to recover some of the costs from previous investments made by provincial and territorial governments.
support to ensure that safe and sufficient child care spaces are available to support parents' gradual return to work.
joint funding with the provinces and territories to support municipalities on the front lines of restarting the economy, including by putting in place precautions for public spaces and essential services to reduce the spread of the virus, as well as a dedicated stream of funding for public transit.
a temporary income support program that will provide workers who do not have paid sick leave with access to 10 days of paid sick leave related to COVID-19.
During this time of uncertainty, the Government of Canada is putting Canadians first by working together with our provincial and territorial partners to lay the groundwork to keep our communities strong and healthy, and ensure our economy is resilient.
CHANGES AND EXTENSION OF THE CANADA EMERGENCY WAGE SUBSIDY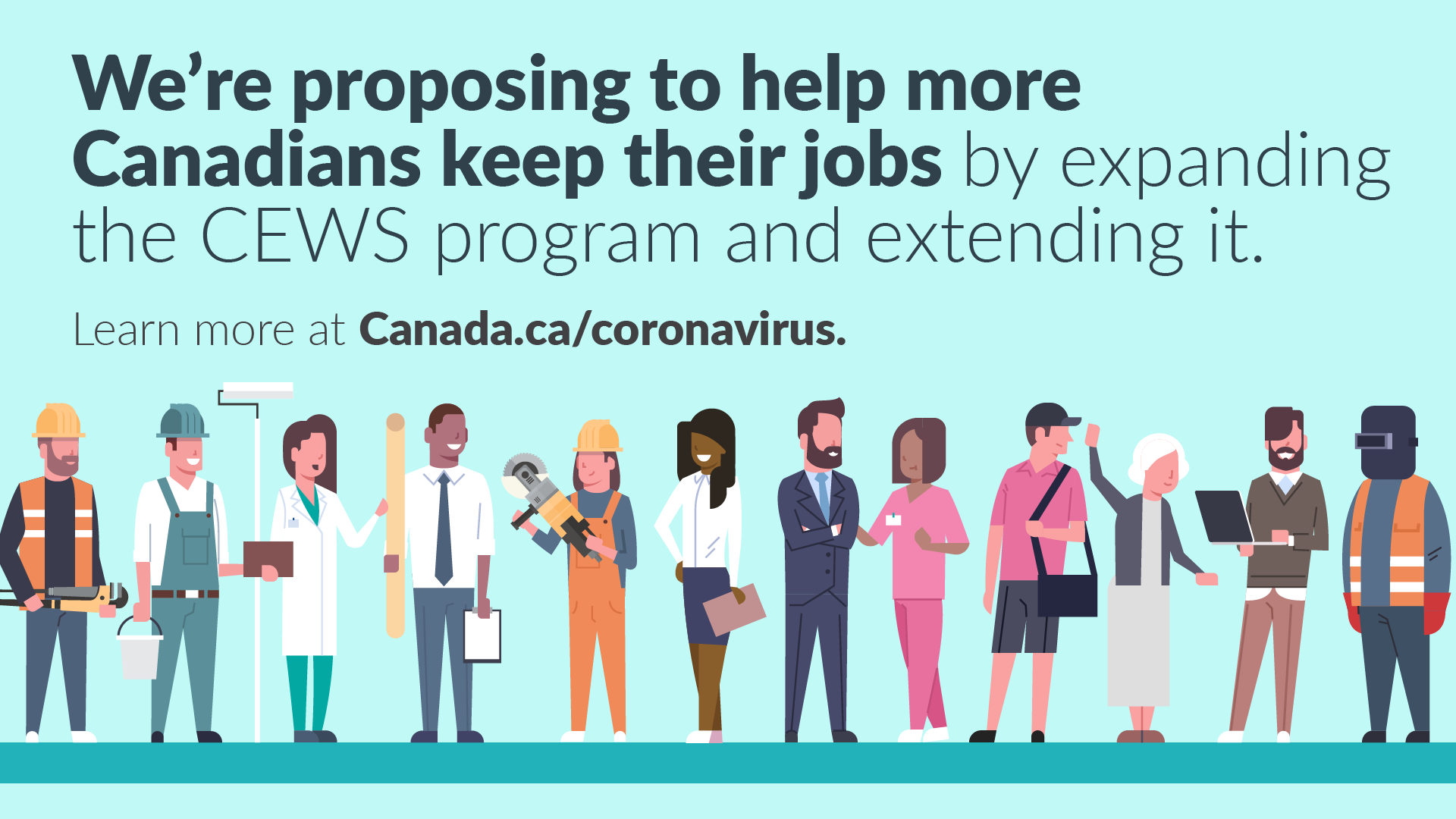 The Canada Emergency Wage Subsidy (CEWS) protects jobs by helping businesses keep employees on the payroll and encouraging employers to re-hire workers previously laid off. Since its launch, about 3 million Canadian employees have had their jobs supported through the CEWS, and that number continues to grow.
On July 17, our government announced changes to the program that would provide more extensive and better targeted support so that more workers can return to their jobs quickly as the economy reopens. The changes will:
Allow the extension of the CEWS until December 19, 2020, including redesigned program details until November 21, 2020.
Make the subsidy accessible to a broader range of employers by including employers with a revenue decline of less than 30 per cent and providing a gradually decreasing base subsidy to all qualifying employers. This would help many struggling employers with less than a 30-per-cent revenue loss get support to keep and bring back workers ,while also ensuring those who have previously benefitted could still qualify, even if their revenues recover and no longer meet the 30-per-cent threshold.
Introduce a top-up subsidy of up to an additional 25 per cent for employers that have been most adversely affected by the pandemic. This would be particularly helpful to employers in industries that are recovering more slowly.
Provide certainty to employers who have already made business decisions for July and August by ensuring that they would not receive a subsidy rate lower than they would have had under the previous rules.
Address technical issues identified by stakeholders.
These changes follow consultations with business and labour representatives on potential adjustments to the CEWS program aimed at ensuring that it continues to protect jobs and promote growth.
ECONOMIC AND FISCAL SNAPSHOT 2020
Earlier this month, Finance Minister Morneau presented Parliament with an economic and fiscal snapshot. It highlighted how our government was able to use Canada's strong fiscal position to stabilize our economy and support Canadians throughout this pandemic.
Our government stepped in to help Canadians with the COVID-19 Economic Response Plan, representing nearly 14% of Canada's GDP in total support, including $230 billion in direct support to Canadians. This support represents the largest peacetime investment in Canadian history and allowed for millions of Canadians to continue to receive an income, put food on the table, and keep a roof over their family's heads, during a time of great uncertainty.
With comparatively low levels of debt, the Government of Canada has the room to borrow and support the Canadian economy. In fact, even given Canada's increased borrowing needs due to the COVID-19 response, public debt charges are expected to fall in 2020-21, as a result of historically low borrowing rates. The cost of inaction would have been far greater, not only to Canada's fiscal position, but, to the health and safety of Canadians. The health of Canadians remains the Government's top priority.
Read the full report here.
---
RESOURCES
---
As the situation is changing daily, please check the following websites for daily updates in Toronto and across Canada:
or download the Canada COVID-19 app.
BENEFITS FINDER
The last few months have been difficult– so our government has put in place a number of measures to support Canadians. If you need support, visit Canada.ca/coronavirusbenefits and fill out the survery for a quick and trusted way to see what programs may be available to you.
CRA MY ACCOUNT
Do you have an online CRA account yet? My Account, the Canada Revenue Agency's secure portal, lets Canadians across the country view and manage their tax and benefit affairs quickly, conveniently, and securely… all online. You can apply for many of the COVID-19 emergency benefits, includng the Canada Emergency Response Benefit and the Canada Emergency Student Benefit, online through your CRA My Account. Don't have an account yet? Watch this video for tips on how to register: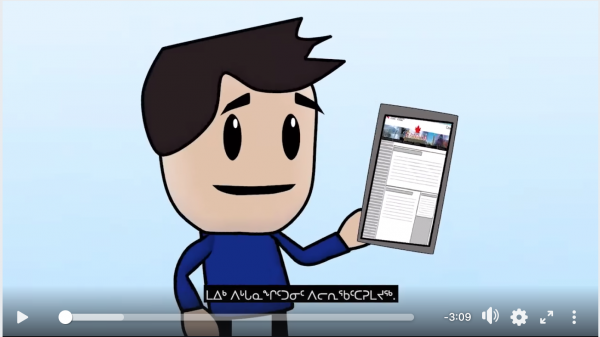 ---
OUR COMMUNITY
---
TORONTO-ST. PAUL'S ORGANIZATIONS RECEIVE FUNDING UNDER THE FEDERAL EMERGENCY COMMUNITY SUPPORT FUND
Earlier this year, our government invested $350 million to improve the ability of community organizations to serve vulnerable Canadians during the COVID-19 crisis. Community-based organizations from across the country were able to apply for funding to support a variety of activities to address a pressing social inclusion or well-being need caused by COVID-19. We are pleased to announce that ten incredible orgnaizations from our riding were selected to receive funding:
Bereaved Families of Ontario - Toronto
Big Brothers Big Sisters of Toronto
Catholic Family Services of Toronto
Christie Ossington Neighbourhood Centre
Findhelp | 211 Central
Geneva Centre for Autism Foundation
Hospice Toronto
Project Work
SPRINT Senior Care
St. Matthew's Bracondale House
Thank you for all that you do! We are so proud and grateful to have so many orgnizations in Toronto-St. Paul's doing the vital work of helping others during this difficult time.
SUPPORT BLACK OWNED BUSINESSES
Buying from Black owned businesses is one way people across the city can help support Black members of the community. BlogTO has put together a list of Black owned businesses currently open in Toronto-St. Paul's and across Toronto that you can support right now. Find it here.
ST. CLAIR SUPPORTS THE STOP
COVID-19 has hit the West Toronto community hard.
Local restaurants and food businesses are fighting to stay in business, while thousands of our neighbours are struggling to keep food on the table.
You can help preserve the rich character of the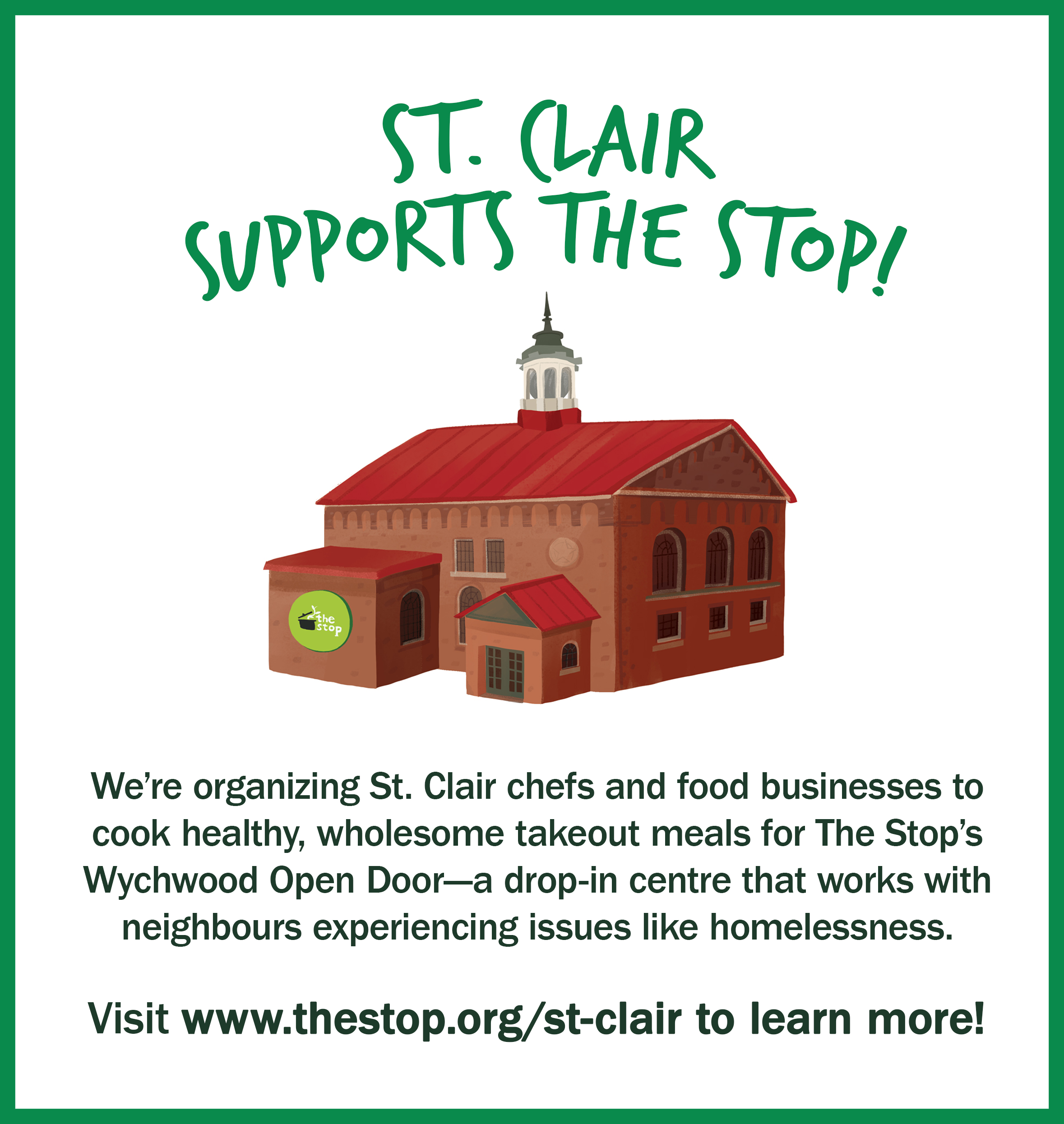 Toronto-St. Paul's community and support our most vulnerable neighbours with one donation! The Stop Community Food Centre is raising money for local restaurants to cook meals for their Open Door program at 729 St. Clair West. To learn more visit: thestop.org/st-clair
OPEN FOR BUSINESS
Now more than ever, local business that make our main streets vibrant need our help. Find out what stores are open, or what restaurants are offering patio service, takeout and delivery. The following BIAs have put together lists of businesses that are still open, albeit doing things a bit differently. Let's do what we can to support our local businesses:
---
MENTAL HEALTH SUPPORT
---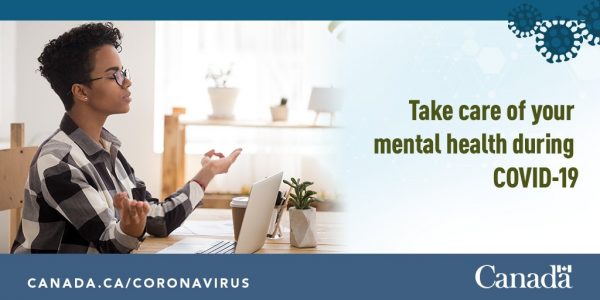 WELLNESS TOGETHER CANADA
COVID-19 has changed the daily lives of people around the world. During these difficult times, it is critical that Canadians be able to obtain credible information and access services to support their mental health and wellbeing. That's why our government launched a portal dedicated to mental wellness: Wellness Together Canada.
This portal will connect Canadians to peer support workers, social workers, psychologists and other professionals for confidential chat sessions or phone calls, and will make it easier to find credible information and help address mental health and substance use issues.
KID'S HELP PHONE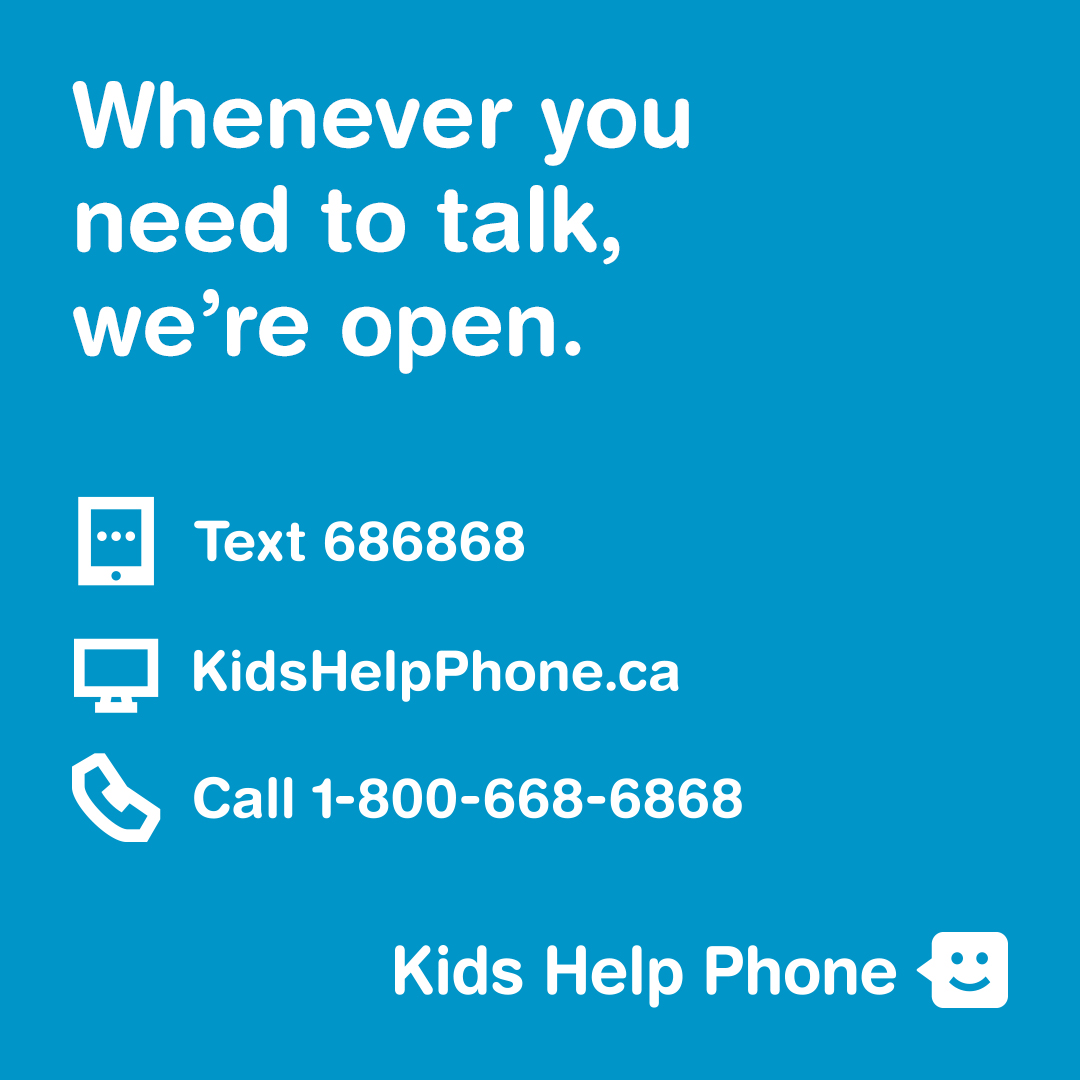 Although we're far apart physically, our young people must feel help is close. That is why our government announced $7.5 million in funding for Kids Help Phone. Kids Help Phone is a remote mental health service that connects youth with professional counselling, information and referrals across Canada without any face-to-face contact. Contact Kids Help Phone at 1-800-668-6868, by texting 686868, or by going online to kidshelpphone.ca.
---
STAY SAFE
---
In an effort to prevent the spread of COVID-19 within communities and across the country, all Canadians are advised to:
Avoid crowded places and non-essential gatherings
Avoid common greetings, such as handshakes or hugs
Keep a distance of at least a hockey stick length away from others
Wear a non-medical mask or face covering while out in public when it is not possible to maintain a 2-metre physical distance from others, particularly in crowded public settings such as stores, shopping areas and public transportation
Limit contact with people at higher risk, such as older adults and those in poor health
Wash your hands often with soap and water for at least 20 seconds. Use alcohol-based hand sanitizer if soap and water are not available
Avoid touching your face
STAY HOME AND AWAY FROM OTHERS IF YOU'RE FEELING ILL
As local governments lift public health measures, you should continue to stay home and away from others if you have symptoms. If you start to develop symptoms of COVID-19, isolate yourself from others and contact your health care provider or local public health authority. Adjust your behaviours and routines based on their advice.
Wear a medical mask if you're ill and will be in close contact with others or need to go out to access medical care. If a medical mask isn't available, wear a non-medical mask or cloth face covering.
HOW TO WEAR A NON-MEDICAL FACE MASK PROPERLY
Health Canada has released a video showing how to properly wear a non-medical mask or face covering to limit the spread of COVID-19 when physical distancing is difficult. Watch it here: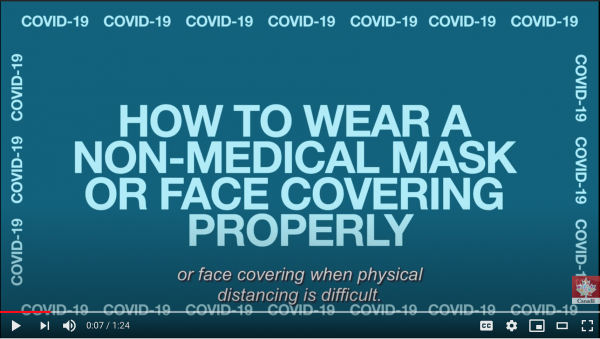 ---
The constituency office is closed to walk-in visits but my team and I are here for you and will continue to serve residents of  #TOStPauls.
Our office is fully operational by phone and by email. You can call us at 416-952-3990, or email [email protected] for assistance in any federal matter.