Dear Friends and Neighbours,
February is often tough. This year, Groundhog Day had a weird resonance after almost a year of day after day almost the same. Every year, Valentine's Day is always difficult for those without a significant other, for those who have lost their loved one, and especially for those unable to navigate an exit from an abusive relationship. We are unfortunately witnessing a parallel pandemic of domestic violence. I never liked Valentine's Day. As I have said before, holidays that seem to have originated with greeting card companies were the days my sister and I were conscripted into the flower shop. I remember those cranky phone calls as the store was closing on February 14 - some harried partner calling at 6 pm to demand a dozen red roses which we had run out of days before. In our home, we love flowers every week!
This year, I recommend we plan on a less romantic approach to Valentine's.
Throughout COVID-19 our posters of gratitude often 'hearted' our frontline workers, our nurses, doctors, paramedics, personal support workers, those working in grocery stores and those who drive the trucks to bring food to our communities. We are all working hard to show our love to our local shops and restaurants. We are checking in on our neighbours and those we know are struggling with health and mental health issues. We want them to know they are loved. Last week, during #BellLetsTalk, we continued in our attempt to remove the stigma around mental health. The courage and candour of champions like Ambassador Bob Rae make it easier to for us to talk openly about anxiety, depression and therapy. Portals like Wellness Together provide all Canadians with a first step to getting help and knowing that they aren't alone.
COVID-19 has tested all of us, and our relationships. Being at home trying to work is not easy. Children are having trouble coping without their friends and school. COVID-19 has stressed our small businesses. For too many front-line workers their exemplary energy and dedication are being strained during this unprecedented marathon. But just as we are grateful for those rare but wonderful crisp February days with the brilliant sun shining down on us, we are grateful for the prospect of all residents in our long-term care residences being vaccinated soon, and then through the priority groups until we are all protected against this deadly virus. We are grateful for the sound advice of the National Advisory Committee on Immunization, who advised that we order vaccines from seven different companies in order to ensure adequate supply, recognizing that there was risk in relying only on one or two producers. We are grateful for all those working in all areas of health care as they prepare to become the army of 'immunizers' who will get these vaccines into our arms.
From the beginning of this pandemic, our government has been there to replace income, subsidize wages and rent for businesses and top up the support for seniors. Our government will continue to be there with you.
In the meantime, we cannot let up on our resolve to reduce the transmission of this virus, especially with the risk of the increased transmissibility of the new variants.
We express our love and respect for one another by staying home whenever we can, and wearing a mask and maintaining a physical distance when we're out.
As we approach Family Day 2021, I am reminded that here in Toronto-St.Paul's, over half of the households have a person living alone. Let's reach out and redefine family; we're in this together.


---
LATEST ANNOUNCEMENTS 
---
BLACK HISTORY MONTH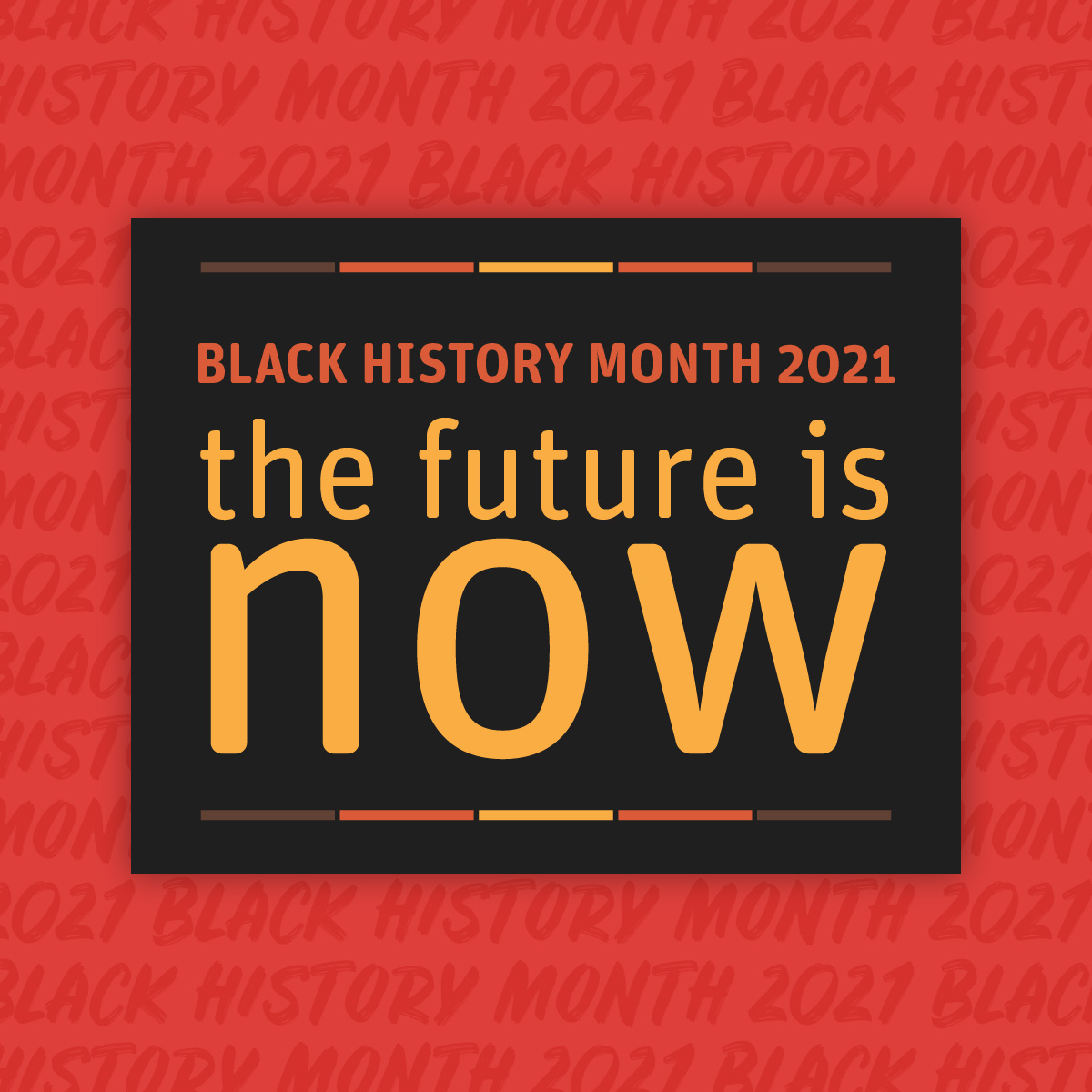 February is Black History Month! This year marks the 25th celebration of Black History Month in Canada following a motion introduced by the Honourable Jean Augustine - the first Black woman elected to the House of Commons!
The Future is Now is this year's theme. It reminds us of the importance of learning about Black experiences in Canada, recognizing and addressing injustices, highlighting the incredible impact of Black change-makers, the achievements of Black Canadians and the contributions of Black communities.
Black businesses, organizations and artists that reside in the Toronto-St. Paul's community - connect with us! We want to share your story, initiatives, and voice on our social platforms. Contact us via email at [email protected] for more information!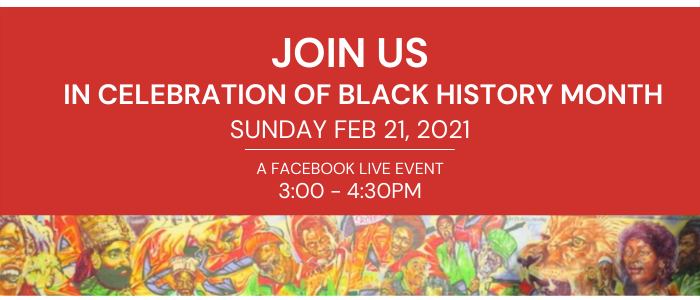 Black History Month is a way of honouring the experiences, contributions and achievements of Canada's Black Communities. Join us as we listen, learn and celebrate together! 
Invited Panelists:
Hon. Carolyn Bennett, MP for Toronto-St. Paul's
Ms. Rosemary Sadlier, Community Activist, Author and former President of the Ontario Black History Society
Alica Hall, Executive Director for Nia Centre for the Arts
Greg Fergus, MP for Hull-Aylmer, Chair Parliamentary Black Caucus
---

These times are challenging and we understand the constant updates and announcements can be overwhelming. We will continue to update you every month with 'New News' - the most recent updates and things to know!
If you'd like weekly 'New News' updates, follow @carolyn.bennett.stpauls on Instagram.
New News Updates

The level of uncertainty during these times can be discouraging. But we want to assure you that our government is unwavering in its commitment to protect Canadians from COVID-19 and support them during these times. As we continue to share updates, we aim to answer your questions with as much clarity as possible. Questions, concerns and feedback are always welcome.
How many vaccines are coming in and when?
We have currently distributed over 1 million vaccines to provinces and territories. We remain on track to receive 6 million vaccines by the end of March, 20 million between April and June, and a total of over 70 million doses by the end of September. Even if no additional vaccines are approved by Health Canada, we remain on track to provide a vaccine to every Canadian by the end of September 2021. For more information on vaccine procurement and distribution, click here.
I'm concerned about the new travel restrictions and the COVID-19 variants. What information do you have?
Since the beginning of this crisis, Canada has strongly advised against non-essential travel and has put in place measures to protect Canadians from COVID-19.
With less than 2% of COVID-19 cases linked to returning Canadians, our travel measures have been working. As we encounter new variants of the virus and more infections, our government is taking further action to strengthen measures to keep Canadians and their families safe. These new travel measures include:
Until April 30, Air Canada, WestJet, Sunwing, and Air Transat will suspend air services to sun destinations, including to the Caribbean and Mexico.
We are strengthing measures to better control international flights by reducing them to only four airports – Toronto, Vancouver, Calgary and Montreal.
In the coming weeks, mandatory PCR testing at the airport will take place for people returning to Canada.
While waiting for up to 3 days for test results, travellers will be required to stay at an approved hotel at an expense of up to $2,000.
Non-essential travellers will be required to show a negative test before entry at the land border with the US, and we are working to set up additional testing requirements.
What is the safe return to class fund going to provide provinces and territories?
As we safely restart our economy and work to build back better, our government will continue to work with provinces and territories to protect the health and safety of Canadian students and teachers.
The Safe Return to Class Fund provides funding to provinces and territories to ensure the safety of students and staff members throughout the school year. Since its creation, this fund has helped support measures, such as adapted learning spaces, remote learning, improved air ventilation, increased hand sanitation and hygiene and PPE and cleaning supplies.
What is 'I Read Canadian Day'?
This is a new nationwide initiative that celebrates the richness, diversity and breadth of Canadian literature. The event will take place on February 17, 2021 – for more information on how to sign-up and participate, click here.
As the pandemic has caused many children to fall behind in school or not be able to attend book clubs and after-school classes, students across Canada are facing entirely new literacy challenges. The event aims to encourage children's efforts to read and empower constituents to support children's literacy and share the joy of reading Canadian books.
---
RESOURCES
---
As the situation is changing daily, please check the following websites for daily updates in Toronto and across Canada:
or download the Canada COVID-19 app.
BENEFITS FINDER
The last few months have been difficult– so our government has put in place a number of measures to support Canadians. If you need support, visit Canada.ca/coronavirusbenefits and fill out the survey for a quick and trusted way to see what programs may be available to you.
---
IN OUR COMMUNITY
---
OPEN FOR BUSINESS
Now more than ever, local businesses that make our main streets vibrant need our help. Find out what stores are open, or what restaurants are offering takeout and delivery. The following BIAs have put together lists of businesses that are still open, albeit doing things a bit differently. Let's do what we can to support our local businesses:
---
MENTAL HEALTH SUPPORT
---
WELLNESS TOGETHER CANADA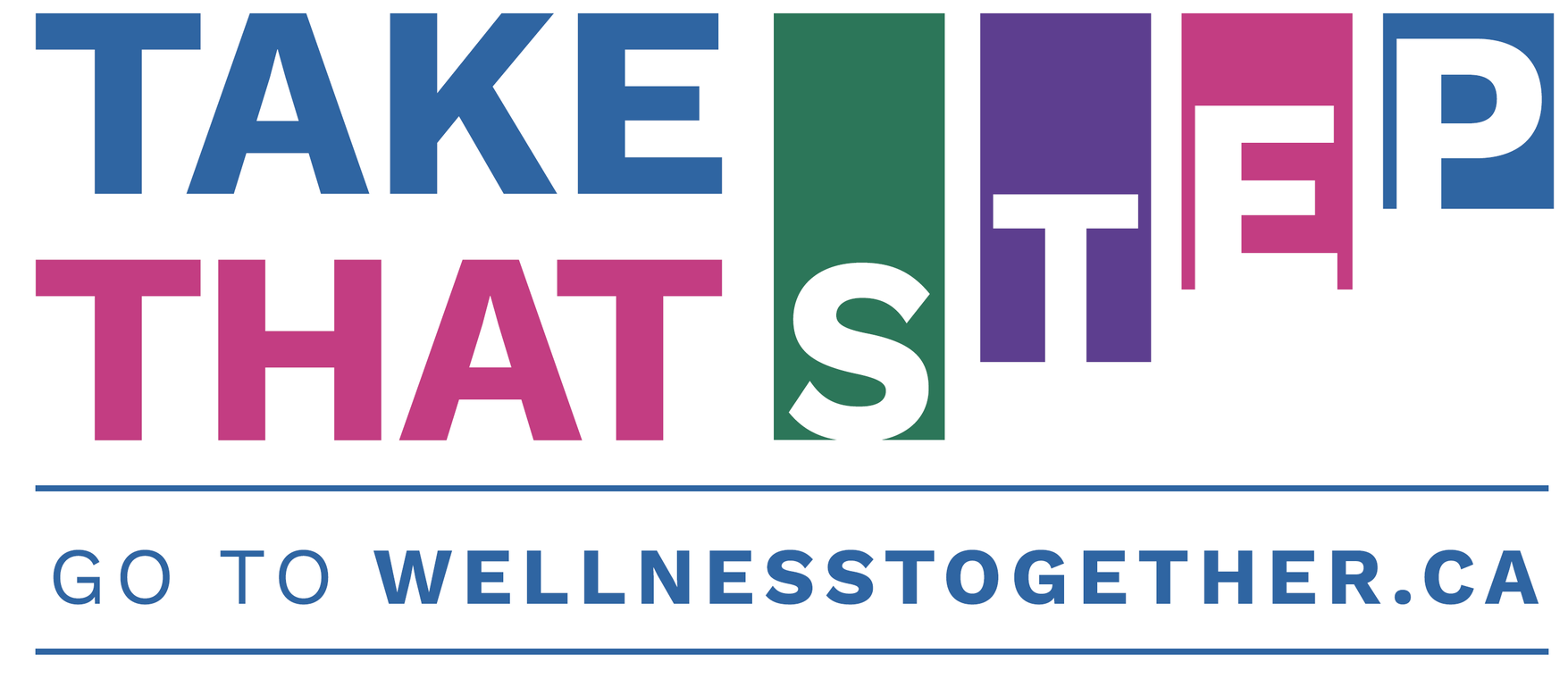 COVID-19 has changed the daily lives of people around the world. During these difficult times, it is critical that Canadians be able to obtain credible information and access services to support their mental health and wellbeing. That's why our government launched a portal dedicated to mental wellness: Wellness Together Canada.
This portal will connect Canadians to peer support workers, social workers, psychologists and other professionals for confidential chat sessions or phone calls, and will make it easier to find credible information and help address mental health and substance use issues.
KID'S HELP PHONE
Although we're far apart physically, our young people must feel help is close.  Kids Help Phone is a remote mental health service that connects youth with professional counselling, information and referrals across Canada without any face-to-face contact. Contact Kids Help Phone at 1-800-668-6868, by texting 686868, or by going online to kidshelpphone.ca.
---
STAY SAFE
---
All Canadians are advised to:
Avoid crowded places and non-essential gatherings
Avoid common greetings, such as handshakes or hugs
Keep a distance of at least a hockey stick length away from others not in your household
Wear a non-medical mask or face covering while out in public when it is not possible to maintain a 2-metre physical distance from others, particularly in crowded public settings such as stores, shopping areas and on public transportation
Limit contact with people at higher risk, such as older adults and those in poor health
Wash your hands often with soap and water for at least 20 seconds. Use alcohol-based hand sanitizer if soap and water are not available
Avoid touching your face
STAY HOME AND AWAY FROM OTHERS IF YOU'RE FEELING ILL
As local governments continue to modify public health measures, you should continue to stay home and away from others if you have symptoms. If you start to develop symptoms of COVID-19, isolate yourself from others and contact your health care provider or local public health authority. Adjust your behaviours and routines based on their advice.
Wear a medical mask if you're ill and will be in close contact with others or need to go out to access medical care. If a medical mask isn't available, wear a non-medical mask or cloth face covering.
HOW TO WEAR A NON-MEDICAL FACE MASK PROPERLY
Health Canada has released a video showing how to properly wear a non-medical mask or face covering to limit the spread of COVID-19 when physical distancing is difficult. Watch it here: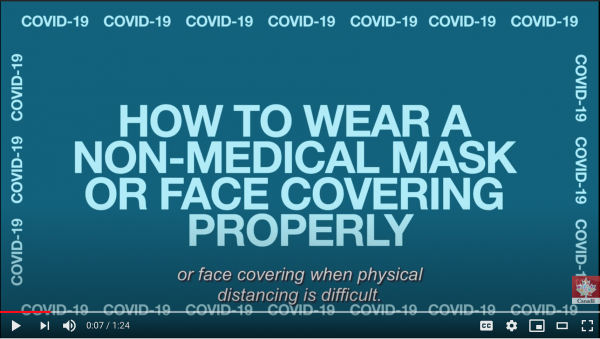 ---
The constituency office is closed to walk-in visits but my team and I are here for you and continue to serve residents of  Toronto-St. Paul's. Our office is fully operational by appointment, phone and email. Call us at 416-952-3990, or email [email protected] for assistance in any federal matter.