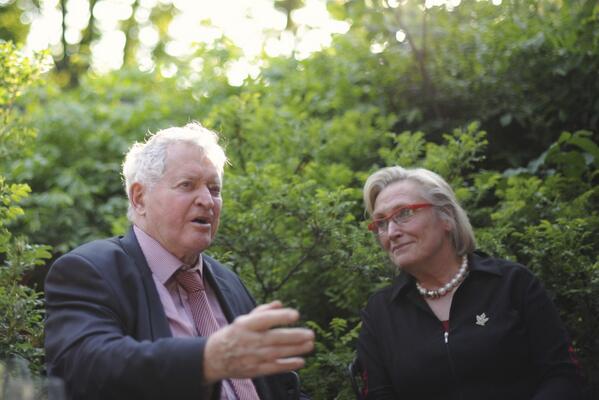 It was an honour to be there yesterday at St. Michael's Basilica for the very poignant State Funeral of former Prime Minister, the Right Honourable John Napier Wyndham Turner. 
I think we all felt so aware that Covid19 restrictions had made the event very different. Only 170 people in the magnificent St. Michael's Cathedral Basilica which would have been filled to its capacity of 1600 people gathering to celebrate the life of this truly great Canadian.
We arrived early to make physical distancing possible. We were seated only 3 to a pew, with 2 pews vacant between those occupied. We nodded to one another. Art Eggleton, Bill and Cathy Graham, Gerry Grafstein,  David and Sharon Johnston, Mayor Tory. Ralph Goodale and Howard Brown sported their TURNER swag from the 1984 Liberal Leadership Convention, which made us smile under our masks.
But mainly we sat in silence, taking time for personal reflection on the influence and legacy of this inspiring leader, for each of us and for Canada.
Then we stood as John McDermott sang his almost therapeutic version of Amazing Grace, accompanied by guitarist Jason Fowler.
We looked back to the nave and could see the red serge of the RCMP officers with masks who then began to slowly guide the Canadian flag-draped coffin to the front of the church.
The Honorary pall-bearers followed; 15 elegant, dignified colleagues and friends of Mr. Turner, perhaps a little uncomfortable in their masks.
The family walked slowly after, nodding to friends in the aisles, but so clearly together for each other.
Reverend Edward Curtis, Rector welcomed us.
The Prime Minister spoke personally and with huge respect about his predecessor who always reminded us that 'Democracy does not happen by accident'.
Words of Remembrance followed.
Historian and educator Dr. Richard Always spoke of the amazing political and policy legacy of John Turner M.P., Finance Minister, Justice Minister and Prime Minister, citing Legal Aid as his proudest accomplishment.
Lifelong friend since their days at Camp Temagami, Michael de Pencier focused on their shared love of nature and the North, and their tremendous record in fighting to protect Canada's wilderness and waters.
Elizabeth Turner then spoke about her dad with such love and detail that we almost felt we had been there with them on their family canoe trips and around their campfires.
Prayers, readings, the Homily by Msgr. Samuel Bianco and Communion - with Covid precautions - as John McDermott sang his haunting version of Ave Maria.
The service concluded with the Prayer of Commendation and then we listened to the Choir's inspiring version of O Canada.
The Recessional Hymn was fittingly 'How Great Thou Art'.
We sat down again to ensure that the exit was safe and looked down again at the beautiful programme – the picture of a young vital John Turner, the Coat of Arms of Canada, and his quote "In any democracy, there is always a tug-of-war between policies to achieve equality, and policies to promote excellence. I am certain that Canada can achieve both equality and excellence."
Mr. Turner has passed the torch. We will honour his legacy by accepting his challenge to never take  democracy for granted and to strive every day for equality and excellence.