The FACTS - Protecting Canadians with a free, safe and effective vaccine is our top priority!
January 26, 2021
We understand these times are challenging, unlike any other and if you're tired and fed up – that is understandable! We are in this together, and this is not forever. With vaccines being rolled out, we are in the final stretch.
We share the urgency of Canadians to ensure access to life-saving vaccines as rapidly as possible, and our government is operating with this sense of urgency every single day. With discussions around vaccine distribution, what feels like new information daily, and uncertainty as to when you and your loved ones will get the vaccine – we want to update you with facts. Below we outline Canada's efforts, dates to look forward to and the reassurance that we are going to get through this. 
We'd like to share these facts to emphasize that we hear you, we are listening, and we will continue to work together in our fight against COVID-19. Our government will not stop until the job is done!
There is misinformation out there. So, what are the facts?
We will have vaccines in this country for each and every person who wishes to be vaccinated by the end of September. With Pfizer and Moderna vaccines alone, we will have enough doses in this country for 95% of all Canadians by the end of September.

While Mr.O'Toole and the Opposition are focused on politics, we remain wholly focused on getting vaccines to Canadians now.

With more than 1.1 million vaccines distributed across the country to date, not only is Canada among the top five G20 nations for COVID-19 vaccinations, we are also in the top 2 contributors to COVAX to ensure equitable access to vaccines around the world.

Moderna has publicly said Canada was among the first it signed an agreement with.
Pfizer has publicly confirmed that Canada was the 4th country in the world it signed with.
Is Canada doing their part to push for the vaccines quicker?
The Prime Minister and Minster Anand have both been in touch with Pfizer executives over the past number of days, and over the weekend to reiterate firmly how critical it is that Canada return to our regular delivery schedules as soon as possible.

This is a temporary delay, not a loss, and our government is on top of this evolving situation.

This is why we have multiple agreements with multiple vaccine suppliers to ensure that we can mitigate any risks in the supply chain.

A number of independent, international monitors show Canada is in the top-ten of nations in the world when it comes to vaccinations per capita (Our World in Data shows that we are ahead of 21 EU nations and behind only 6), Goldman Sachs outlook showing we will be second among G7 nations to vaccinate the most per capita by September.
For additional information on the Federal government's support for Canada's vaccine rollout, visit here.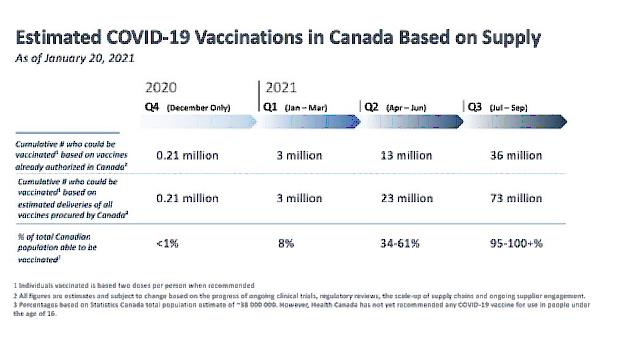 We thank you for following public health guidelines, the sacrifices you have made and continue to, and trusting that we are in this together.
To get email updates - subscribe to our monthly e-newsletter by clicking 'Get Updates' at the top of your screen.